When we design custom window treatment solutions for child-friendly spaces, we take absolutely nothing for granted. Every detail, whether functional or fashionable, is thoroughly reviewed to ensure that the window treatments we suggest are stylish, sensible, and safe.
If you're considering investing in window coverings for a nursery, playroom, or any space often occupied by children, we encourage you to consider the following 5 design tips to make sure you and your children get the most out of our custom plantation shutters, shades, and blinds.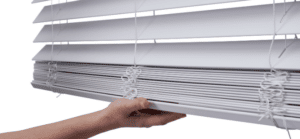 #1 Cordless Window Treatments
Safety is our primary concern when designing window coverings for spaces occupied by children. The official journal of the American Academy of Pediatrics concluded that "From 1990 to 2015, there were an estimated 16,827 window blind–related injuries among children younger than 6 years of age treated in emergency departments in the United States."
While there are many child-safe window treatment options, those that eliminate cords all together, such as plantation shutters and cordless shades and blinds, are by far the safest window covering options. They are made even safer when installed by window treatment installation specialists, such as those at Acadia Shutters.
The American Academy of Pediatrics goes on to report that nearly 50% of all reported child-related injuries caused by window treatments were due to being struck by a component of the window covering. In order to reduce the risk of impalement, we recommend having your custom plantation shutters, shades, and blinds installed by a professional – a service Acadia Shutters proudly provides at no extra cost.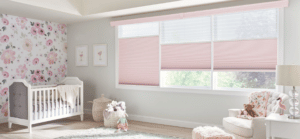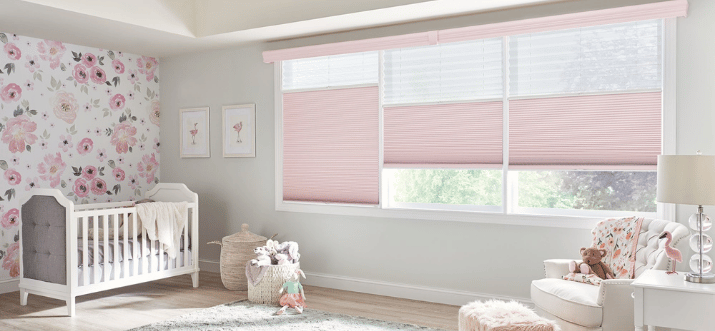 #2 Don't be Afraid of a Little Color!
In the same way throw pillows can add a pop of color to your sofa, window treatments provide a unique opportunity to add texture and tone to a space – and what better space to have a little fun with color than in a child's nursery or bedroom?
For decades, advertisers have used psychological studies to better understand how color influences not only behavior, but health. According to the popular interior design site, TheSpruce.com, "Scientific studies have also found that exposure to certain colors can improve sleep habits, increase memory power, and even enhance academic performance—excellent benefits for growing minds and bodies."
Thus we encourage our customers to see their windows as a canvas of creativity! From the cool hues of blue known for helping children who have trouble to the color green, which has been shown to promote concentration and reduce anxiety – your custom window treatments have the ability to do more than just filter light.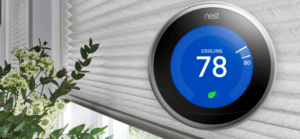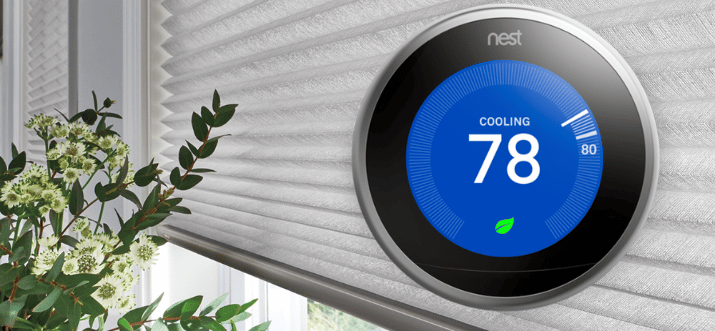 #3 Keep it Cool with Temperature Control
Babies can't tell us when they're too hot or too cold, so it's important to have window treatments in place that help regulate a room's temperature.
According to the U.S. Department of Energy, "Heat gain and heat loss through windows are responsible for 25%–30% of residential heating and cooling energy use." Energy-efficient window treatments such as cellular shades act as a barrier between the exterior elements and your interior comforts. Thus, cellular shades not only help keep your nursery at the suggested 65-72 degrees Fahrenheit, but consequently they help reduce your utility bills – leaving you extra room in your budget for more diapers!
Another popular window treatment upgrade to further improve temperature control is a Smart Home Motorized Lift System. When your custom window shades are connected to your favorite smart home system, the shades can raise and lower on a schedule to block sunlight at predetermined times of the day.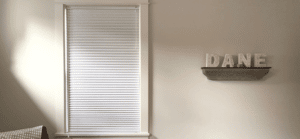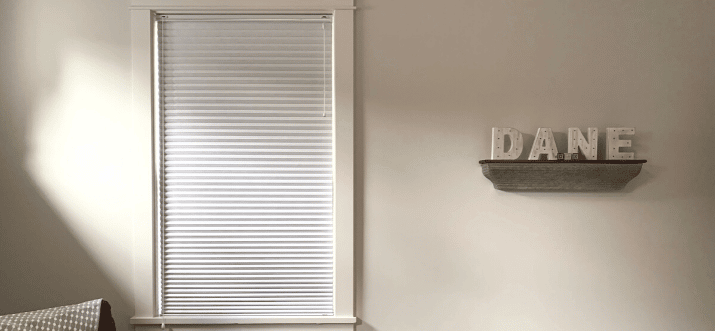 #4 Lights Out!
The amount of light in a child's bedroom is an important, yet often overlooked design consideration. In fact, did you know that children's eyes let in more light than the eyes of adults?
The New York Times recently reported on a study conducted by doctors at the University of Colorado who researched the affects of light on children ages 3-5 as they neared bed time. "We found that the bright light exposure suppressed melatonin by almost 90 percent, and the effects persisted even after the kids returned to dim light," said Dr. Lameese Akacem, the lead author of the study. "Fifty minutes after the light was gone, most of the children were still not back to 50 percent of the melatonin levels seen the day before."
This is one of the reasons our team may recommend Blackout Shades in your child's bedroom. Although blackout shades do not block out 100% of the light, they are the best window treatment solution to achieve the highest level of darkness.
Both our Cellular Shade and Roller Shade collections feature Blackout fabric options and our Natural Woven Shades are easily converted to blackout shades with the addition of a fabric liner. In all, Acadia Shutters offers 100's of custom blackout shade options that help ensure your little one sleeps soundly!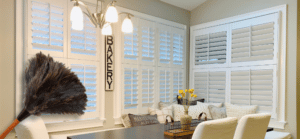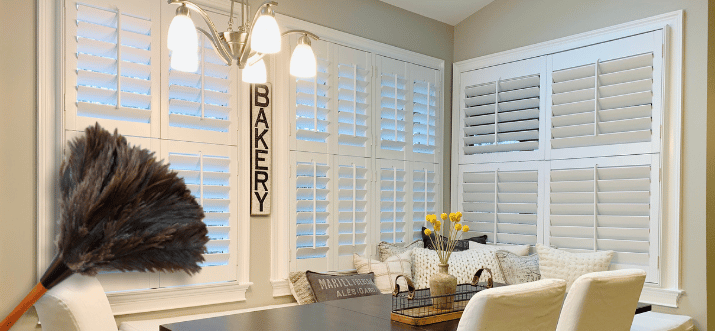 #5 Easy-to-Clean Window Treatments
Is your rugrat a perfect prince or princess who doesn't make a mess, has never grabbed for the nearest marker, and picks up all of his or her toys? If so, feel free to stop reading. For the rest of us, easy-to-clean window treatments are essential for any child-friendly space.
Plantation Shutters are not only one of the safest window treatments as we mention above, but they are also the easiest to clean. Simply run a duster in-between the slats for a quick clean or use soap and water for a deeper clean. Because our interior shutters go through a rigorous multi-coat painting process that includes UV protection, our plantations shutters have a durable finish that resists warping.
When it comes to easy-to-clean window treatments, Cordless Cellular Shades are an often-overlooked option. Don't let those honeycomb pleats scare you! Acadia's cellular shades are constructed of 100% metalized polyester film sealed between 2 layers of soft 100% spunlace fabric, helping to ensure that the pleats keep their shape even when damp or after being vacuumed…yes, vacuumed!
While Acadia's plantation shutters and shades have received 5-stars for their pricing and quality, you may be looking for a more economical, low-maintenance window treatment solution. Our custom Cordless Faux Wood Blinds are as low-maintenance as window coverings come. Simply dust off the slats or apply your favorite cleaner, and our durable, high quality blinds will look brand new!
Wondering what window treatments to avoid? If the windows you are dressing are in a room that is prone to child activity, we recommend avoiding window treatments made of heavy fabrics such as Roman Shades. These custom window coverings are often sensitive to household cleaners and are know for attracting dust and odors.
The Bottom Line
Acadia Shutters is proud to offer many child-friendly window treatment solutions for your home. While safety is always our first priority, it is by no means the only thing to consider when investing in window coverings for your little one's bedroom or playroom.
Your personal Acadia Shutters consultant will be happy to show you all of our child-friendly options during your free in-home consultation. Book your free consultation today and our team of experts will help you design custom window treatments perfectly fit for a fashionable and functional, child-friendly space!
Follow us for updates, special offers, and more!