If you've installed plantation shutters elsewhere in your house, there are many reasons to consider installing them on exterior doors as well. Doing so provides a consistent look throughout your home, light control, and privacy.
Potential Challenges of Adding Window Coverings to Doors
Installing any window covering on a door presents challenges. As doors open and close frequently, it is important to consider the movement and stability of the window covering you choose.
When blinds and shades are installed on doors, hold down brackets are installed to stabilize the bottom of these window treatments. However, because blinds and shades are suspended by cords, they do move and flop around as the door is opened and closed. Blinds and shades require homeowners to unclip them from their hold down bracket in order to raise them for a full view through the door's window. Many homeowners dislike this inconvenience. For doors with lever handles, blinds and shades may interfere with the operation of the handle.
Plantation shutters are the most stable window covering for doors. Plantation shutters are mounted on frames and frames are securely screwed into the door frame with 2-inch long trim head screws. Their glued-hardwood composition makes them sturdy, steady, and durable on frequently used doors.
Plantation shutters also offer a number of solutions to ensure room for operation for door knobs and lever handles.
In many cases, there is enough space between the window within the door and knob so that the shutters can be installed to cover the window and the homeowner still has enough space to turn the door knob or lever. In such cases, a standard plantation shutter can be installed in the same way as they are on any other window in a home.
A Bump Sanded Around a Knob and Lock to Make Room for Operation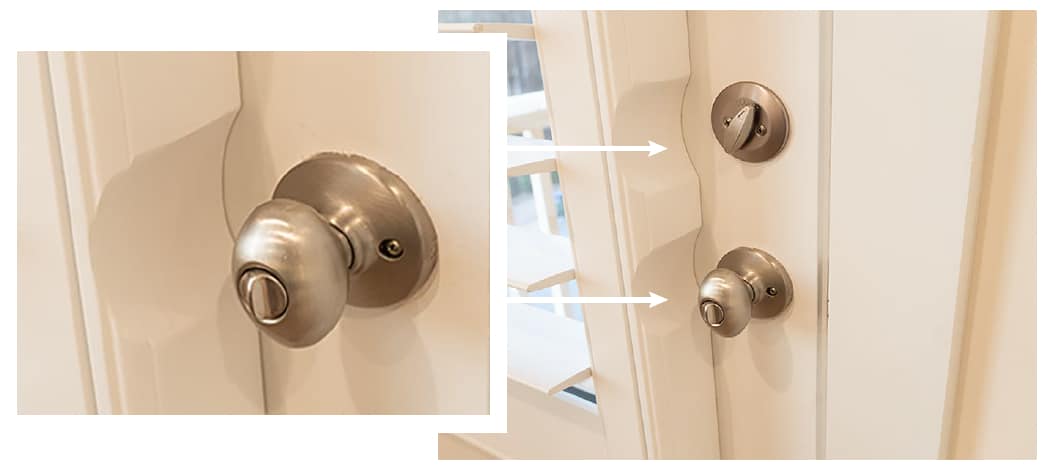 In some cases, door knobs are ver y close to the window in the door. In this instance, a bump may be sanded into the shutter frame. A bump is a subtly smooth sanded indentation in the shutter frame to make room for a door knob and/or lock. It is created with a belt grinder and hand-sanded to ensure the groove is as smooth and accurate as possible. Bumps may limit how fully a homeowner can turn a door knob, but they are less expensive than other options.
Acadia Shutters does not charge extra for bumps Standard plantation shutters occasionally leave insufficient clearance for lever handles. One solution here is to replace your lever with a knob. This is the cheapest option—it can usually be done for under $100. Installing a door knob is a simple process anyone can accomplish in approximately 30 minutes with only a screwdriver.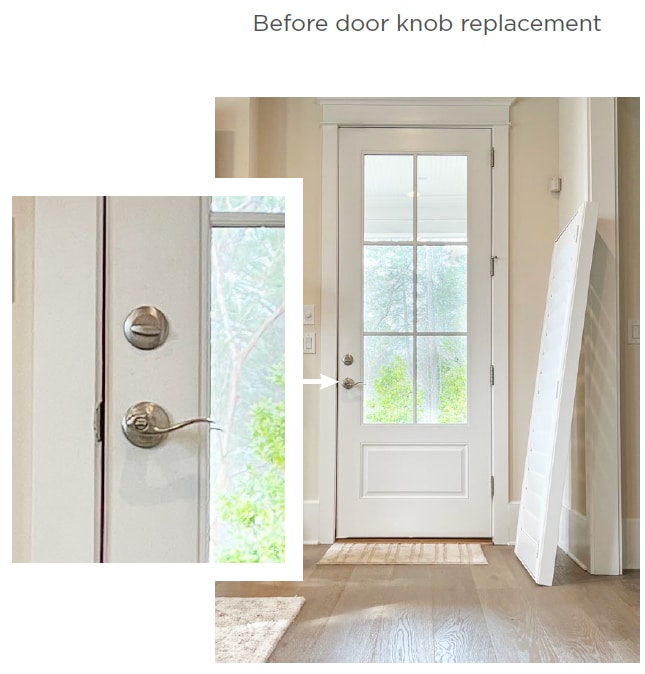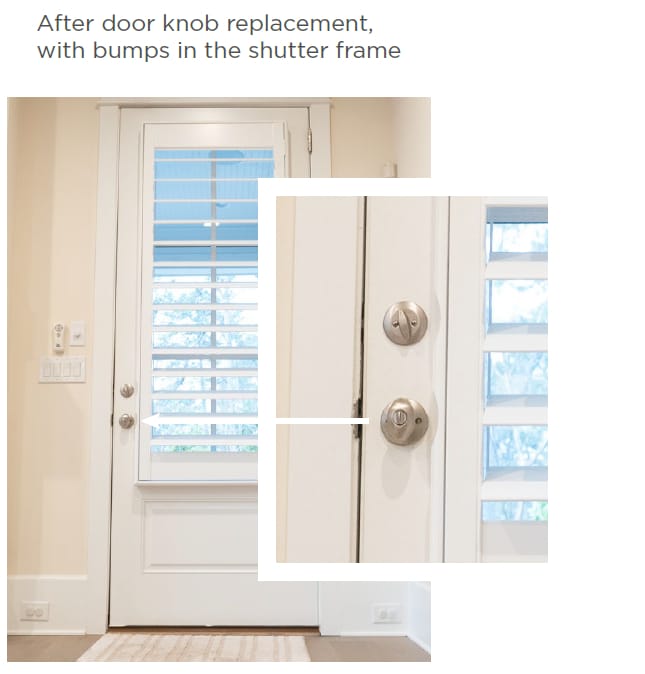 If you prefer to keep your lever handle on your door, a cut-out can be ordered as a specialty option for your shutters. A cut-out is when a portion of the plantation shutter frame is cut out, to make room for your lever.

Cut-outs are more expensive than bumps and will likely add to the amount of time it takes to build your shutters. That being said, they are also more customizable. Cut-outs can be radial or rectangular depending on your preference. Radial cut- outs are rounded, resembling a half-circle while rectangular cut-outs resemble a block removed from your shutters.
We recommend matching the louver size of the shutters to be mounted on doors to the louver size on shutters throughout the rest of your home. The frames shutters are mounted on the door with must be deep enough to accommodate the shutters when the louvers are open in the horizontal orientation . Shutters with larger 3 ½" or 4 ½" louvers require a deeper frame to be mounted to the door.
For help choosing the perfect shutters for your door, schedule a free consultation with one of our local experts. They'd be happy to discuss your needs and present options for your specific windows!