The only thing higher than those summer temperatures might just be your cooling bill – and that's just not cool! Heat gain and heat loss through your residential windows accounts for up to 30% of your home's energy use. Talk about throwing money out the window! According to Energy.gov, this happens because roughly "76% of sunlight that falls on standard double-pane windows enters to become heat."
Making the switch to energy-efficient window treatments is one of the best ways to reduce energy loss and instantly start saving money…not just during the summer months but throughout the entire year. And don't think that because you're investing in function that you have to sacrifice fashion. Acadia's energy-efficient window treatment solutions are custom-crafted of on-trend materials featuring the most fashion-forward colors, patterns, and textures guaranteeing a positive impact on both your space and your wallet.
What are the most energy-efficient window treatments?
Insulating Cellular Shades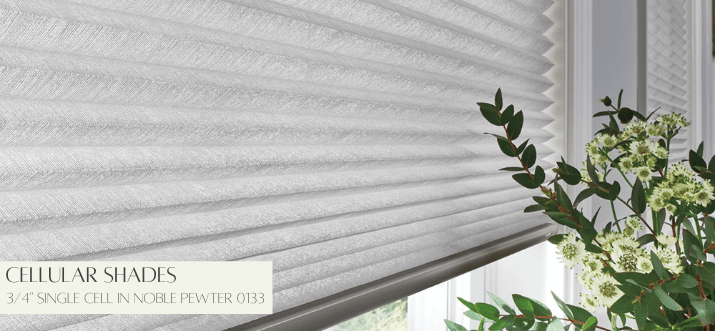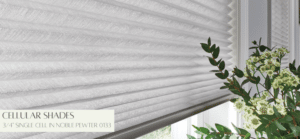 Cellular Shades take the prize for being the best energy-efficient window treatment solution. Cellular Shades are often called Honeycomb Shades, because they are constructed of pleated materials that form insulating pockets of air, reflecting the look and shape of a honeycomb. These pockets, or cells, act as a blanket for your window increasing the R-value.
R-Value is a measure of a material's resistance to conduct heat flow. The higher the R-Value, the more effective the material is at insulating. Our Cellular Shades with ½" Double Cell construction offer the highest R-Value at 4.76. This equates to a 60% reduction of heat transfer.


"In heating seasons, tightly installed cellular shades can reduce heat loss through windows by 40% or more, which equates to about 20% heating energy savings," says Energy.gov. "In cooling seasons, cellular shades can reduce unwanted solar heat through windows by up to 80%, reducing the total solar gain to 15% or less when installed with a tight fit." Now that's a lot of savings!
Cellular Shades are also a great window treatment option for bathrooms and other spaces prone to high levels of moisture. This means that with honeycomb shades, your commitment to energy-efficiency can go where most window treatments can't!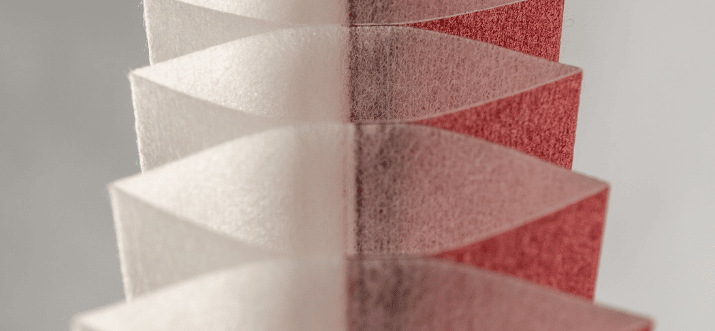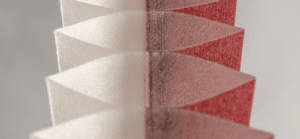 Why are cellular shades a good option for bathrooms? Acadia Cellular Shades are made of 100% metalized polyester film sealed between two layers of soft spunlace fabric. This uniquely engineered construction makes them extremely durable so that even when damp, cellular shades will keep their pleated shape.
Real Wood Plantation Shutters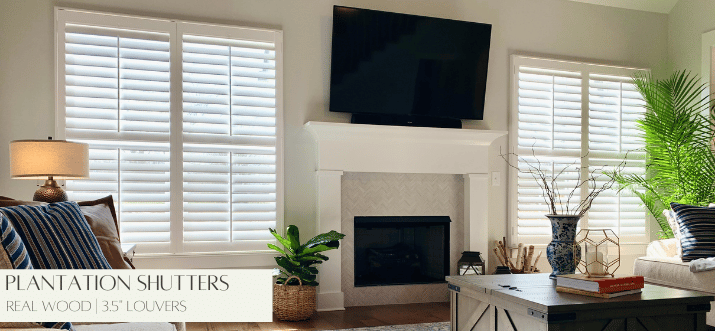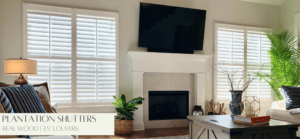 Acadia Plantation Shutters boast the same natural insulating properties of wood, making them a popular energy-efficient window treatment. All wood components of our interior shutters are finished in a multi-coat painting process. This process includes UV protection to create a durable, lasting finish that reflects the sun's harmful rays without damaging or fading the shutter louvers.
How plantation shutters are installed also contributes to their high level of energy-efficiency. Unlike Shades and Blinds, Outside Mount Plantation Shutters create a seal around your window's frame, drastically reducing the amount of air that can escape between your window frame and the edge of your shutter panel.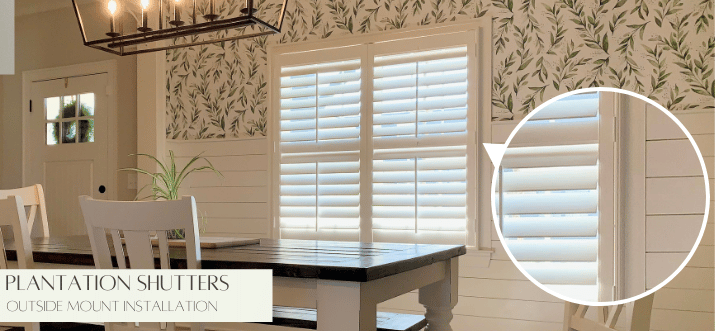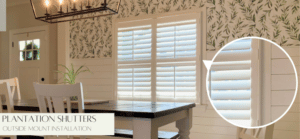 While preventing heat and cold loss is an important part of energy-efficiency, it's not the only way to be more energy conscious. Energy use reduction is equally important, and Plantation Shutters are one of the best window treatment options for reducing and conserving energy! Why? Interior Shutters are the only window treatment constructed with adjustable louvers. These louvers can be moved up and down to redirect the sunlight, and in turn, redirect the sun's heat – without sacrificing privacy!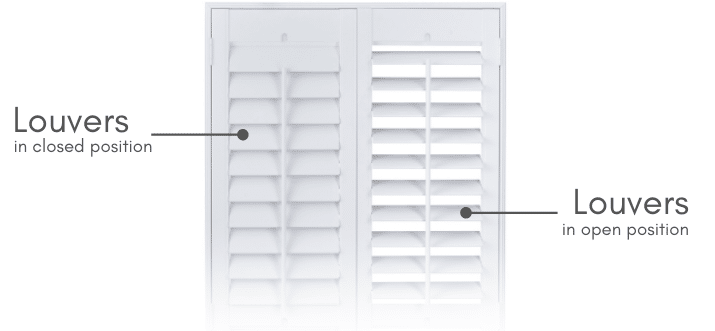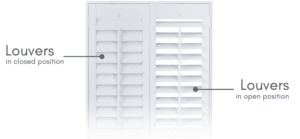 During more temperate months in the Spring and Fall, adjust your plantation shutters louvers throughout the day to help regulate airflow and sunlight. By doing this, you'll be able to delay turning on your heat or air conditioning all together.
Maximize the Efficiency of Your Current Window Treatments
While Cellular Shades and Plantation Shutters are the most energy-efficient window treatments, every window covering offers some level of protection if for no other reason than the fact that they are covering your windows. Maximizing their efficiency is a matter of focusing on how they are used.
For example, if your window treatments are in the same position day after day, month after month, year after year, you're probably not getting the most out of your investment. Window treatments need to move with the sun and with the seasons to account for how and when the exterior elements interact with your windows.
Upgrading your window treatments with motorized lift controls integrated into your favorite smart home device is a popular way to ensure that your window coverings automatically adjust with the weather and with the position of the sun. Motorized window treatments mean you don't need to worry about adjusting your shutters, shades, or blinds when the sun becomes too hot. It's done automatically!
However, you don't need motorized window treatments in order to immediately start improving the energy-efficiency of your shutters, shades, or blinds. Follow these simple steps to help conserve energy and watch your utility bills drop:
Summer or Warmer Climates
Close your window treatments during the day to prevent the sun from unnecessarily heating your space. This naturally keeps your space cooler reducing your dependency on air conditioning.
Keep your window treatments closed at night to prevent cool air from escaping. This means your air conditioner will have to work less when temperatures start to rise the next morning.
Winter or Cooler Climates
During the day, give your heater a break and open your window coverings. This allows the sun's FREE solar heat to warm your home.
When night falls and temperatures drop, close your window treatments to keep the warm air in.
On cloudy days, close your window treatments to prevent the warm air from escaping.
The Bottom Line
All Acadia Shutter Window Treatments are designed to help you live comfortably, and it's without question that energy-efficiency and comfort go hand-in-hand. While Plantation Shutters and Honeycomb Shades are the most energy-efficient window treatments, we are confident that no matter which solution you choose, your windows will be dressed in fashion and function.
Request your Free In-Home Design Consultation today and ask about our Healthy Home Collections, featuring eco-friendly and energy-efficient window treatments custom engineered to perform!
Follow us for updates, special offers, and more!