…and other High Moisture Rooms
Not every window treatment is created equally. When deciding what window treatments work best for you, it is important to look not just at fabric and color options, but to consider function.
When meeting with clients during their Free In-Home Consultation, we want to know what you want your window treatments to accomplish and how you envision the room functioning.
When those questions reveal that a space may be subject to high amounts of moisture, such as bathrooms, unfinished basements, garages, or attics, our ears perk up and our team of window treatment specialists knows to review options built to withstand high-humidity environments.
What are the BEST window treatments for bathrooms and other high moisture rooms?
According to Acadia Shutters' Nashville Sales Consultant, Ben Stephens,
"The best window treatments for bathrooms depends on where in the bathroom the window is located. For instance, all products can work well above a garden tub or in a water closet"
While nearly all window coverings will work in bathrooms with windows not directly impacted by water, some treatments, by sheer design, are simply better suited than others: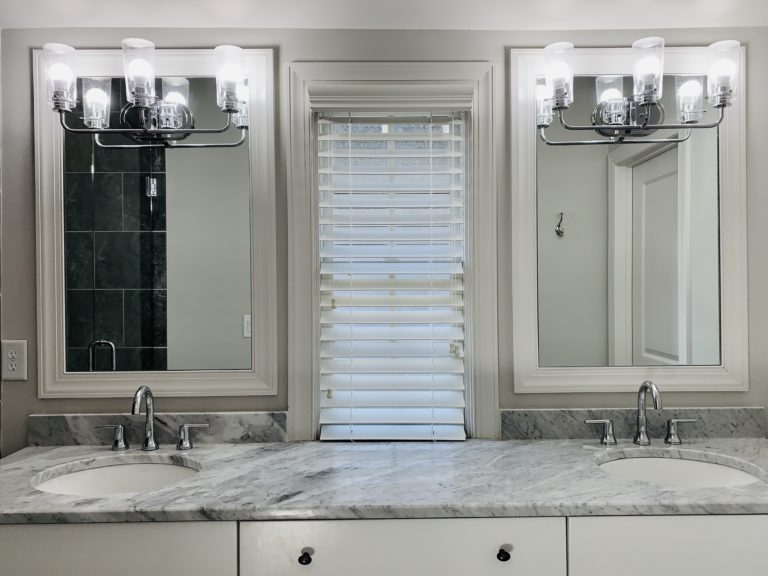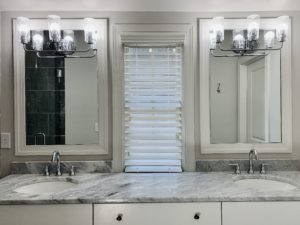 Faux Wood Blinds – An affordable and quick solution, Acadia's custom faux wood blinds give the look of real wood without the risk of warping when exposed to intense humidity. Made of PVC, faux wood blinds restrict mildew growth and can easily be cleaned with soap and water. Think that faux wood blinds won't fit your style? Think again! With a choice of 2 inch or 2.5 inch slats, multiple slat colors to choose from, and the option to add a splash of color and texture with 1.5 inch decorative tape, faux wood blinds are anything but boring.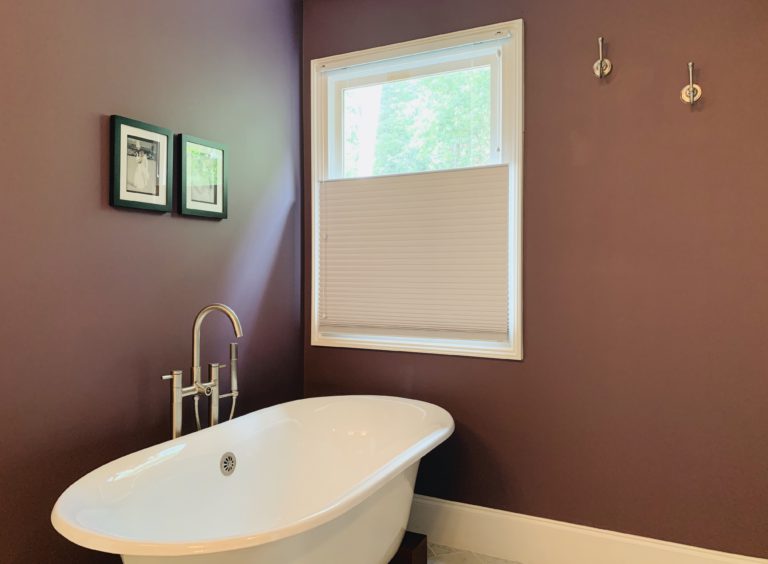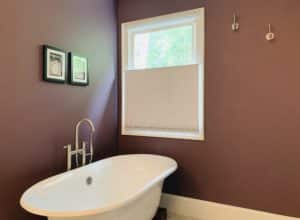 Cellular Shades / Honeycomb Shades – Selecting bathroom window treatments, or window treatments for any high moisture room, doesn't mean sacrificing style. With Acadia's light-filtering cellular shades, also called honeycomb shades, you get style, texture, and privacy – all while maximizing natural light.
What makes these shades such a great option for rooms subject to large amounts of moisture? Cellular shades are extremely durable, easy to clean with a wet sponge, and even keep their pleated shape should they get wet. Available in a multitude of opacities from sheer shades to blackout shades, Acadia Shutters cellular shades are available in single cell, double cell, and triple cell – and the customization doesn't stop there! Our honeycomb shades can also be designed with top down bottom up functionality. This allows the shade to cover the bottom portion of the window providing privacy, while allowing natural light to come through at the top of the window. Boasting extensive durability and a nearly endless array of design options, cellular shades are a favorite in bathrooms, attics, and other high moisture environments.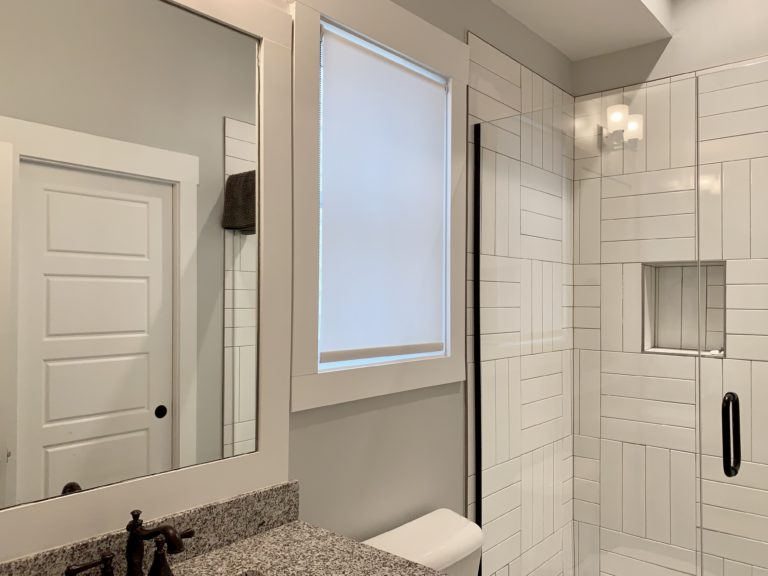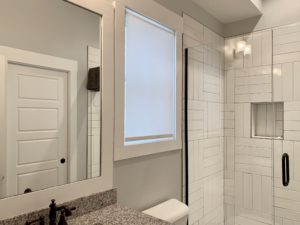 Solar Shades – Sleek, modern, and available in an almost endless variety of colors, patterns, and textures, Solar Roller Shades make for the perfect bathroom window treatment solution. With no folds to retain moisture and made of materials that can easily be wiped down, our solar shades are a favorite amongst our clients. Our very own Ben Stephens explains why,
"Solar shades are great because they offer great light control, and because they're made of 76% plastic, they're easier to clean and less likely to be affected by extreme moisture."
From an aesthetic perspective, solar shades are uniquely suited to add interior design interest on top of efficient functionality as they can easily be dressed up with designer pulls, tassels, fabric valances, profiled fascias, and a multitude of trim options.
What window treatments should you avoid in bathrooms and other high moisture rooms?
Custom window treatments shouldn't just be beautiful. They must also be durable. At Acadia Shutters, we're not in the business of a quick sale. Being window treatment experts sometimes means having to say "No" to our clients – not because we can't meet their needs, but because we know that the window coverings they want, will not be functional in the space.
Real Wood Blinds – Although beautiful, real wood blinds in a high moisture room are an absolute window treatment no no! When subjected to moisture and high levels of humidity, the thin, real wood slats will warp. A common misconception is that stains and finishes help prevent this from happening, but those finishes eventually break down as a result of the moisture, leading to chipping and ultimately, warped slats.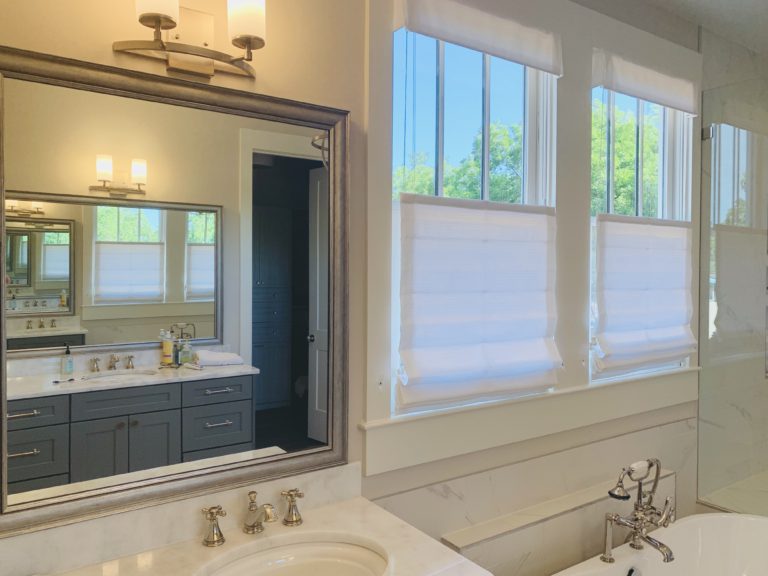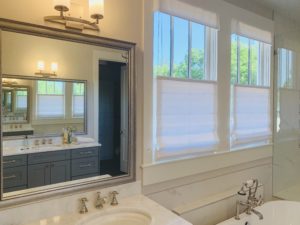 Heavy Fabrics – We have met many homeowners who like to compliment the sleek, clean look of their bathroom with window treatments that have a bit more interest, color, and texture. Roman Shades would certainly check off all of those boxes. Acadia's Roman shades are an elegant window treatment option for larger bathrooms or in bathroom windows that are not subjected to direct moisture.
However, be forewarned that if installed in windows that come in contact with large amounts of moisture, the heavy fabric of roman shades can begin to hold that moisture, making them a breeding ground for mildew and germs. According to HomeGuides.com,
"Mold can grow anywhere moist and dark, and the folds of your draperies can offer mold spores the perfect home."
Take for instance a fabric shower curtain. Being directly subjected to moisture, it's not uncommon to see mildew forming on that curtain. Even without heavy fabric or deep folds, the curtain holds in moisture. Using heavy roman shades close to a water source can create the exact same effect.
Can Plantation Shutters be installed in a bathroom?
Absolutely! Depending upon where in the bathroom the window is located, our custom hardwood interior shutters can make a great addition to the space. Acadia's Ben Stephens puts the rumors to rest,
"It's tried and proven over and over again. Hardwood plantation shutters can be installed in bathrooms. Just think, the window casework is made of wood, so your bathroom window treatments can be too."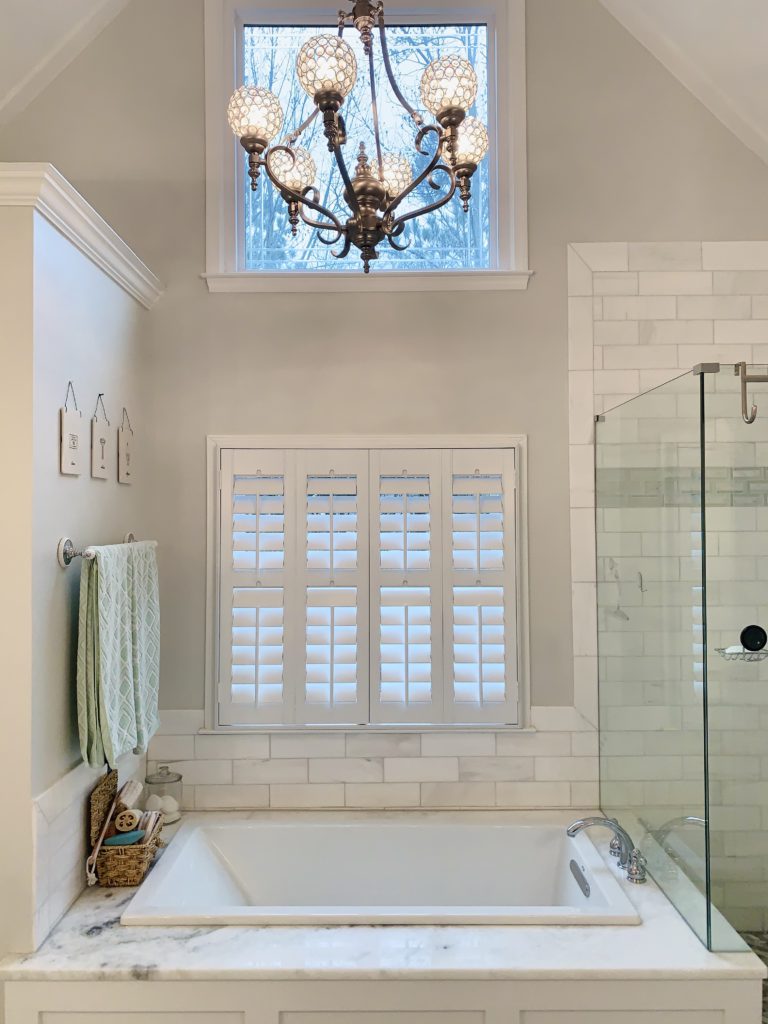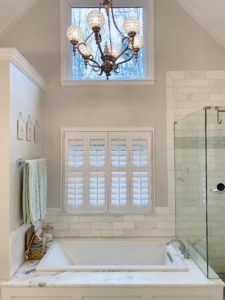 As mentioned previously, we don't recommend installing treatments in a window located within a shower that may come into direct contact with water. For all other windows, plantation shutters can beautifully finish off the room. Complimentary with nearly every home décor style, plantation shutters allow you to let just enough light in to beautifully gleam through your bathroom's steam, while simultaneously offering extensive amounts of privacy.
The Bottom Line
Don't think that because you have a window in a moisture prone space that your custom window treatment options are limited. Our team of professionals will seamlessly guide you through the selection process, room-by-room, treatment-by-treatment. From blinds to shades to shutters, our custom-crafted solutions mean that you don't have to sacrifice style or function for high humidity rooms in your home or business.
Follow us for updates, special offers, and more!