In celebration of Earth Day 2021, Acadia Shutters is proud to announce that through our partnership with Graber Window Fashions, we will soon be able to offer our clients more eco-friendly window treatment collections than any leading competitor. This means more window treatments made responsibly with more window covering options that will positively impact your home's interior as well as the world in which we live.
Eco-Friendly Window Treatments are uniquely crafted and designed to help our clients create not just a beautiful home but a healthy home. From energy-efficient design to sustainable fabrics made of 100% recycled materials, our Healthy Home Collection features environmentally conscious solar shades that look and function as nature intended.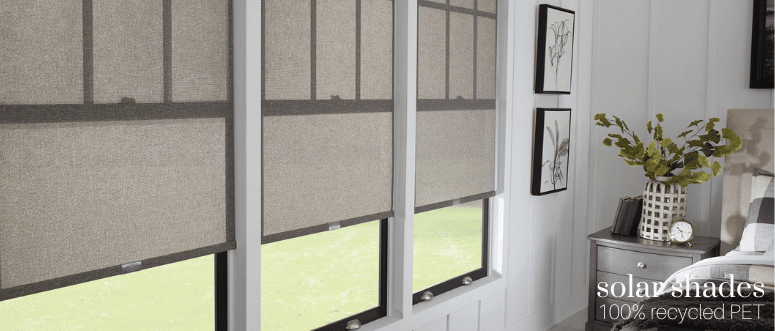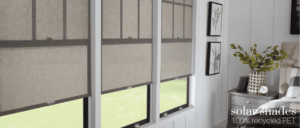 Our eco-focused efforts guarantee that the solar shades featured in our healthy home collection will not only boast the unsurpassed quality and performance you've come to expect from Acadia Shutters, but will now feature at least one of these industry-elite certifications.
Cradle-to-Cradle®
Products labeled as Cradle-to-Cradle® Certified have an economical lifecycle that mimics that of nature. Like nature's cycle, cradle-to-cradle products are designed to have a positive impact on both people and the planet, from the product's first iteration to the end of the product lifecycle.
Soon enough, our popular custom Solar Shades will boast this renowned certification, ushering in a new age of eco-friendly window treatments. The custom Solar Shades featured in our Healthy Home Collection will have fabrics made of recycled plastic bottles, many of which will be extracted direct from the Earth's oceans. This means that with each window you dress, you'll be helping to keep our oceans clean – but cradle-to-cradle craftsmanship doesn't end there!
When you're ready to replace your Solar Shades, simply take them to a dedicated recycling center. There the fabric will be melted down and upcycled into new window treatment fabric, completing the cradle-to-cradle cycle.
Learn about the Cradle to Cradle Certification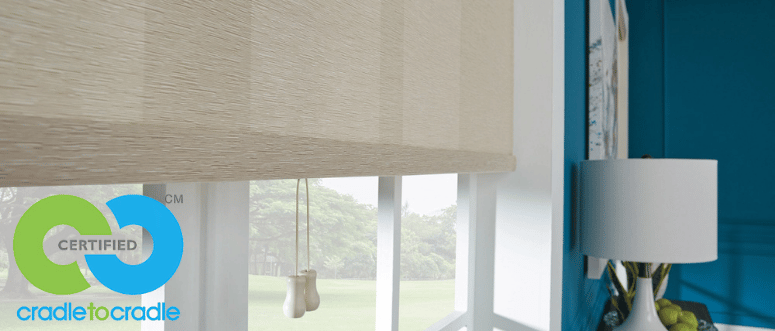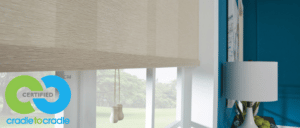 FUN FACT: Did you know that a Solar Shade for a standard size window can be made by recycling five 2-liter plastic bottles? Five! Now that's a big impact!
GREENGUARD Gold
Did you know that the largest percentage of chemical exposure in people occurs through the air we breathe in our homes, schools, and various other indoor environments? According to UL, a global safety leader, "These airborne chemicals are commonly referred to as volatile organic compounds (VOC's), which are used to manufacture and maintain building materials, interior furnishing, cleaning products and personal care products."
This means that the products used to construct and decorate your homes can have a large impact on the quality of air you breath, and window treatments certainly fall into this category, but not those from Acadia Shutters!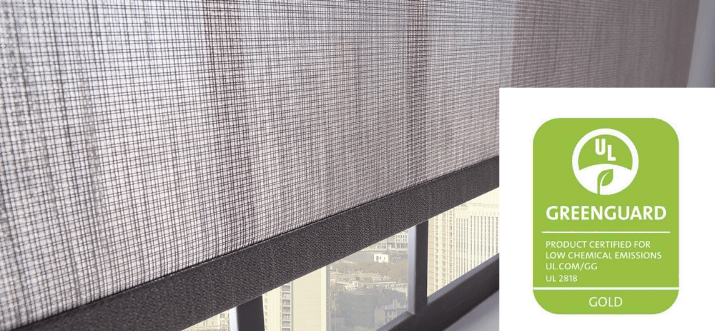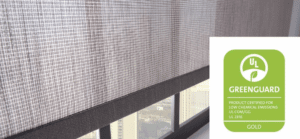 As indicated on many of our window treatment product pages, our custom window shades are GREENGUARD certified. Our Solar Shades will soon receive an upgraded certification to GREENGUARD GOLD.
"The GREENGUARD Gold Certification standard includes health-based criteria for additional chemicals and also requires lower total VOC emissions levels to help ensure that products are acceptable for use in environments like schools and healthcare facilities," says UL. Thus, our custom solar shades will boast not only fresh designs but the freshest indoor air quality, giving you the confidence to rest easy knowing that your custom window shades from Acadia Shutters won't only look beautiful, but will help you breath better!
Learn about the GREENGUARD Certification.
STANDARD 100 by OEKO-TEX® – Confidence in Textiles
Window Treatments featuring a "Standard 100 by OEKO-TEX® – Confidence in Textiles label are constructed of fabrics free from harmful substances and produced in facilities that boast responsible textile production, safety, and transparency.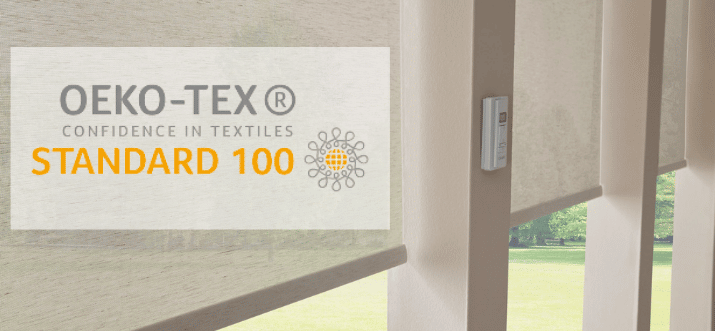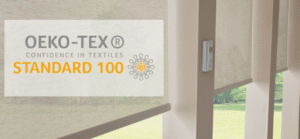 "If a textile article carries the STANDARD 100 label, you can be certain that every component of this article, i.e. every thread, button and other accessories, has been tested for harmful substances and that the article therefore is harmless for human health," says OEKO-TEX. "The test is conducted by our independent OEKO-TEX® partner institutes on the basis of our extensive OEKO-TEX® criteria catalog. In the test they take into account numerous regulated and non-regulated substances, which may be harmful to human health."
Learn about the Confidence in Textiles label.
More than Green Products, We Have Green Practices
When it comes to being environmentally conscious, the team at Acadia Shutters doesn't just think big. We DO big. From the cars we drive to minimizing wasteful packaging, our team is committed to not only selling eco-friendly window treatments, but to being eco-conscious in every aspect of our business.


ENERGY-EFFICIENT COMPANY VEHICLES
We've invested in a fleet of Toyota Prius's taking pride in the fact that our green initiative makes a positive impact with every consultation and installation.
We've taken this initiative even further allowing our consultants to park the vehicles at their home and scheduling them with clients nearby to minimize gas consumption. We've also outfitted our installation team with a fleet of high-capacity, Best-in-Class Ford Transit 150's. With extended height cargo space, our installers are able to safely and efficiently transport a days worth of product, ultimately minimizing gas usage while also helping to increase installation capacity for our clients.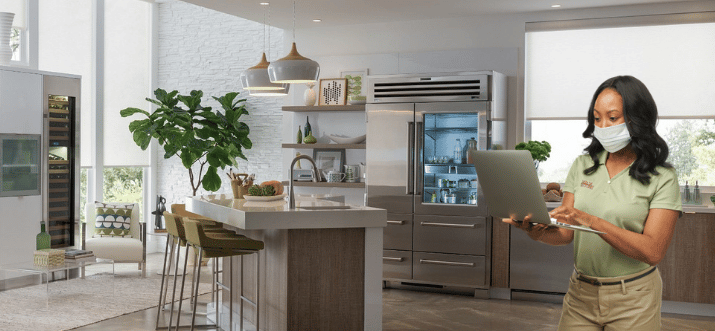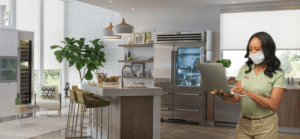 PAPERLESS QUOTING & BILLING
We have spent years investing in the development of proprietary software that allows our team to provide our clients with an immediate onsite quote during their in-home window treatment consultation. Once window measurements are taken and samples reviewed, our clients have the opportunity to discuss their quote onsite with their dedicated design consultant so that any questions can be answered. The quote is then emailed to our client, and authorizing production of the order is as easy as sending an email. No wasted paper and no wasted time means your custom plantation shutters, shades, and blinds enter production quickly!
NO WASTEFUL PACKAGING
Acadia Plantation Shutters are made locally. Once completed, they are wrapped in blankets and carefully loaded into our installation vans for safe, efficient, and eco-friendly transportation. This means no wasted packaging and no unnecessary shipping in preparation for your professional installation – once again reducing our carbon footprint.
The Bottom Line
As a local, family-owned company, Acadia Shutters is committed to the communities we serve by providing high quality, affordable window treatments that make a big impact on your home and very little impact on our environment. Our green initiative is woven into the window shades we sell and our every day business practices. It remains our goal to not only be a window treatment company you can trust, but one that you know is looking out for your family's future with each and every plantation shutter, shades, and blind that we design.
Follow us for updates, special offers, and more!