Plantation Shutters boast a wide variety of customization options from a choice in louver size to custom colors even down to the finish of your shutter hinges…and it doesn't stop there! Choosing between inside mount shutters and outside mount shutters is one of the many decisions you'll make as you navigate the design process. However, as experts in custom interior shutters, our goal is to help make that decision much easier.
The Difference Between Inside and Outside Mount Shutters
Outside mounted shutters, as seen below, are fitted to the wall around the window. When mounted, the shutter frames will protrude out from the wall creating a trimmed look around the windows.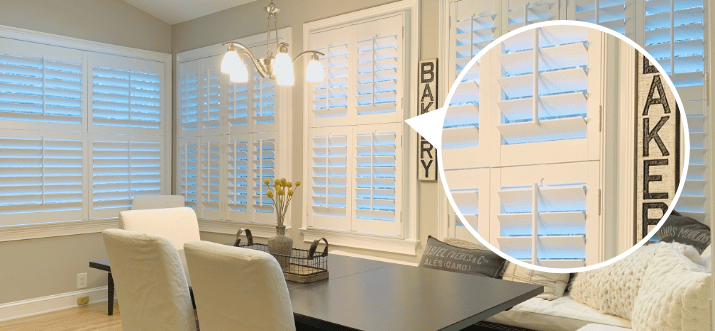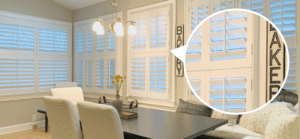 Outside Mount Shutters installed over the window casing
Inside mounted shutters, shown below, are recessed within the window frame and are attached using hanging strips. While the intention of this design is to have the shutters flush with the window casing, customers are often dissatisfied with the final look and the functional restrictions inside mount shutters create.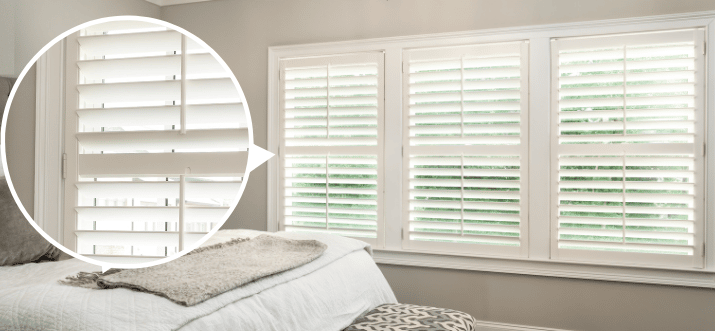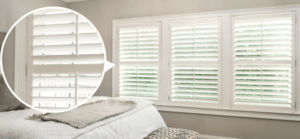 Inside Mount Shutters installed within the window frame
Are Inside Mount or Outside Mount Shutters Better?
The Square Answer
Plantation shutters are built perfectly square. Your window frames, while intended to be, often are not. Even in new construction homes, windows often have inconsistencies in their frames. Check for yourself by measuring the distance between the side frames at multiple vertical points. Repeat this by measuring the distance between the top and bottom frames at different points. If at any point the measurements differ, then your frames are not perfectly square.
This is a very important consideration when choosing inside mount shutters. With the inside mount set-up, your perfectly square shutters are installed inside of imperfect window frames. As seen in the installation below, this can create gaps between the shutter and window frames allowing light to shine through, further accentuating your window frame's imperfections.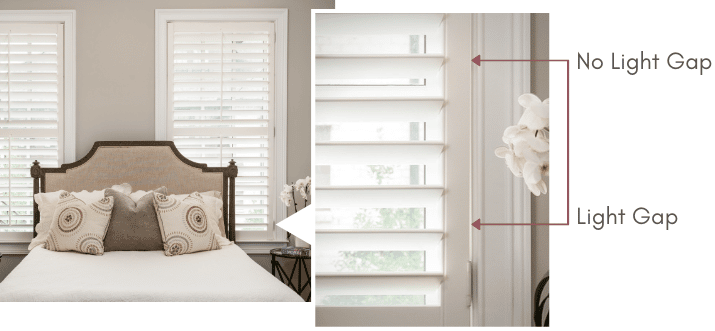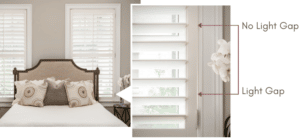 With outside mount shutters, the shutter's frame conceals, rather than highlights, any inconsistencies found in the shape of your windows. How does this work? Well, the shutter frame consists of a shallow box built around the shutter panels. This box provides both a mounting surface for the actual shutters and includes a built-in ledge that helps prevent light gaps. Acadia's plantation shutter frames are also designed to seamlessly tie in with your window casing so that it's nearly impossible to tell where the casing ends and the frame begins.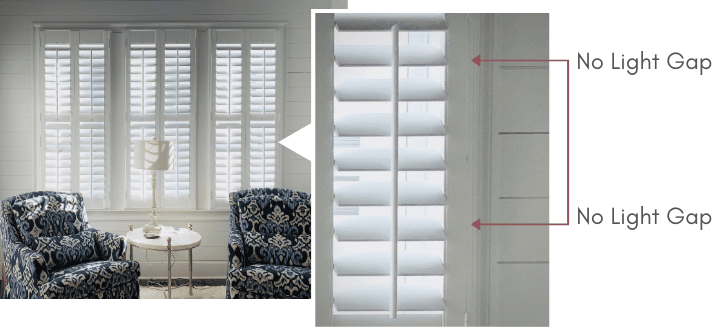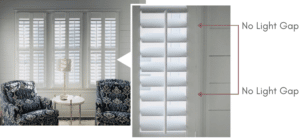 Windows with Tilt-In Capabilities
If you've recently purchased new windows, you know that many windows are now equipped with a tilt function that allows you to open the window inward. This is to give homeowners easy access to the exterior glass for hassle-free cleaning.
Because inside mount shutters are recessed in the window frame, their design prevents these windows from being able to tilt inward. Thus, exterior window glass would need to be cleaned from the outside, a big inconvenience for large windows and those not located on the ground level.
Outside mount shutters, pictured below, do not prevent your windows from tilting inward. Because the shutter frames are installed over your window casing rather than in front of your actual window, the windows have enough clearance to open inward.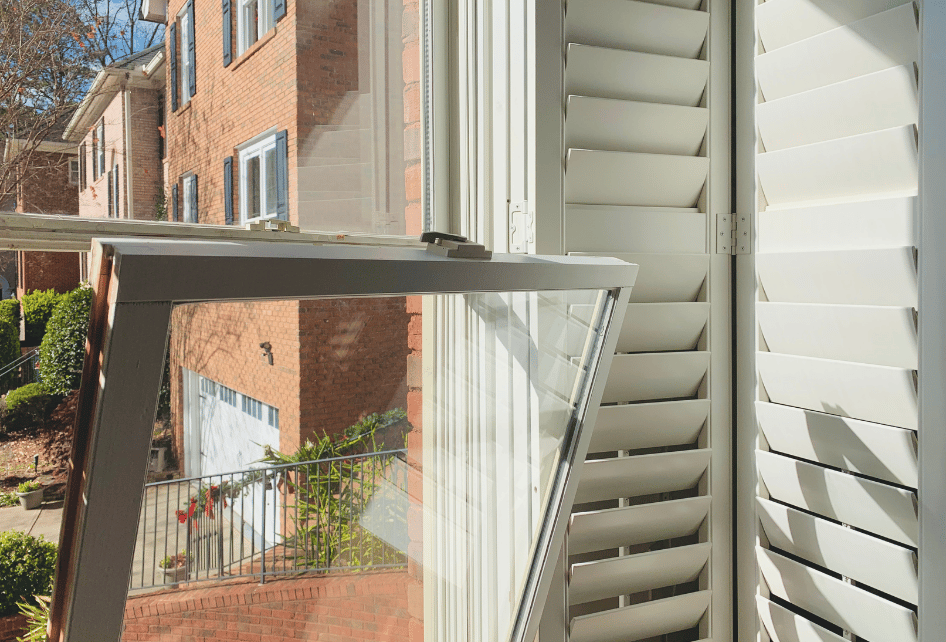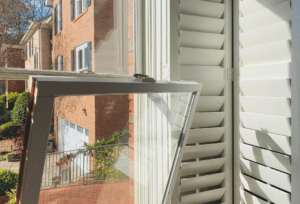 Outside Mount Shutters allow for windows to tilt inward for easy cleaning.
Maximize Your View
As we mention above, outside mount shutters create a frame around the window, whereas inside mount shutters create a frame within the window. This means that when you open outside mount shutters, you have the benefit of enjoying completely unobstructed views.
In contrast, the frames of inside mount shutters cover the circumference of the windows themselves, blocking a portion of your exterior views and potentially blocking some of the natural light. These frames are also likely to make your windows look smaller from the interior, whereas the frames of outside mount shutters accentuate the windows, making them look larger.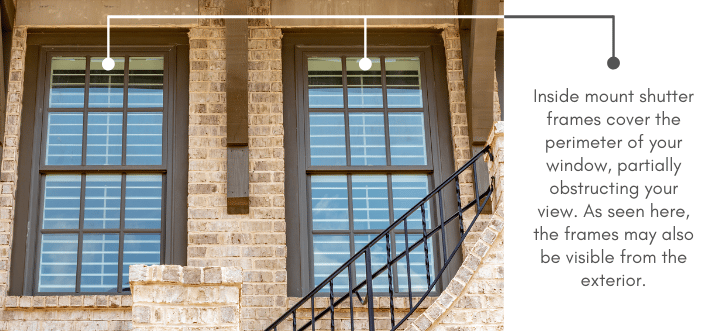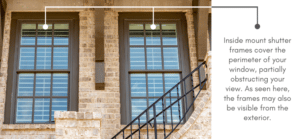 "But I don't like how the frame sticks out from the window."
Regardless of how your plantation shutters are mounted, they'll require clearance between the panels and the windows themselves so that the louvers can rotate into the open and closed positions without hitting the window glass. The larger the louver size you choose, the more clearance you'll need.
We understand you may still be uncertain about outside mount shutters and are uneasy about the thought of having a frame around your window. You're not alone. We have many customers who hesitate when choosing between outside mount and inside mount shutters. If you're still on the fence, then we encourage you to explore our Inspiration Gallery where you'll find photos of Acadia plantation shutters installed in the homes of real Acadia clients. Nearly all of our interior shutter photos feature outside mounted shutters as most of our clients choose this design after discussing the above pros and cons with their consultant. As you're viewing these photos, you'll notice that your eyes aren't drawn to the frames. Instead, they're drawn to the shutters, which is a direct result of the outside mounted frames creating a more finished look.
The Bottom Line
In our experience, outside mount shutters are by far, the most popular mounting choice. They hide, rather than accentuate, the flaws in your window frames. Their design doesn't prevent windows from tilting inward and they boast unobstructed views when open.
As specialists in custom plantation shutters, we do of course have the expertise to construct both inside and outside mount shutters. However, it's because of this expertise that we're not in the business of "Yes-ing" our clients. We're in the business of helping our clients make the most educated decision based upon their needs and their budget.
If you have more questions regarding inside mount and outside mount shutters, we're happy to help! Request your Free Consultation today!
Follow us for updates, special offers, and more!