Window Treatments are one of the most impactful interior design decisions you will ever have to make. They control the amount of light that fills a space, they can have a direct impact on your home's energy-efficiency, and window treatments are the singular design element that's visible from both your home's interior and exterior.
While having the same window treatments throughout your home does create a sense of cohesiveness, the fact that every room in your home serves a unique purpose also means that the same window treatment may not be the best choice for every room. Thus, window treatments do not have to match, that is unless you want them to!
There are no window treatment design rules that say all window coverings throughout a house should match or should not match. However, there are best practices that we recommend when considering the best window treatments for your home.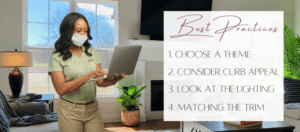 Choose a Theme
 As you walk through your home, each room should tell it's own unique story. Our goal is to ensure that while every story is different, each feels as though it was written by the same author.
Even with thousands of custom window treatment options, our team of experts can help create color, texture, and architectural themes that compliment each other rather than contrast.
Window Treatment Design Considerations:

Color – Roman Shades may fit the design aesthetic of your master bedroom but Plantation Shutters might be the best window treatment for your dining room. Designing both in a neutral color pallet creates cohesion between both rooms while fulfilling the functional needs of each individual space.

Texture – If your interior design aesthetic embraces natural elements or perhaps your home is situated in an area with lots of natural foliage, Custom Woven Shades featuring sustainable bamboo may be the perfect window treatment for your open-concept kitchen and family room. However, you may need a more water-resistant window covering solution for your master bathroom. Acadia's Cellular Shades in biophilic, or plant-inspired patterns, would carry that nature-inspired design theme from your family room into your master bathroom, while also providing a window treatment suitable for a high-moisture environment.

Shape – Investing in window treatments to improve your curb appeal may be your #1 priority with budget coming in at a close #2. For maximum curb appeal, we suggest Plantation Shutters for those windows located at the front of your house. For any rear facing windows, we might recommend a more economical window treatment such as our Faux Wood Blinds to help reduce the cost of your project. While shutters and blinds are two very different window coverings, the horizontal lines of the shutter louvers compliment the horizontal lines of the blind slats. This will create a seamless transition from room to room while helping to keep your costs low.
Consider Curb Appeal
The window treatments you choose have as much of an impact on the exterior of your home as they do on the interior. While there are many considerations when choosing window coverings that pair well with your home's architectural style, none is more impactful than color.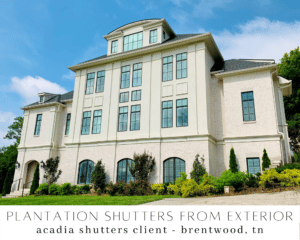 Imagine for instance that your formal dining room, home office, and 2nd story nursery all face the street. White Layered Shades may work with your dining room design, contemporary black interior shutters a great choice for your office, and blue cordless Roller Shades a fun and safe choice for your nursery. On the inside, the design of each space will tell the story you intended to tell. However from the outside, you risk your home looking as though it's a mismatched quilt made of leftover fabrics, making it unappealing to neighbors and even more importantly – unappealing to potential buyers.
Thus, if you choose to use different types of window treatments on the front of your home, we recommend using the same color for each and ideally a color that compliments your home's exterior.
Let the Light Shine In
While your window treatments are just one aspect of a room's design, they ultimately control the most important consideration in all interior design – lighting. The types of window treatments you select determine how much light enters a space, the light's tone, the shadows, and even the temperature. All of this will ultimately change how every other aspect from the furniture to the flooring to the wall color look and feel.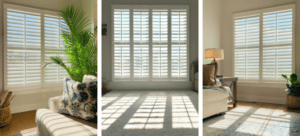 Lighting can also change how the window treatments themselves look. For example, red cellular shades can sometimes look orange as light filters through them and blue roller shades can turn grey when subjected to direct sunlight.
This is why Acadia Shutters conducts all window covering consultations in our clients' homes rather than in a design studio. Studio lighting can be deceiving and doesn't reflect how a specific shutter, shade, or blind will look in your home. Seeing where the windows are in the home, the direction they face, the location of furniture, and the window size allows our consultants to suggest window treatments that will work best with your home's lighting and décor.
Do Window Treatments Need to Match the Trim?
No. As we mentioned, there are no window treatment rules, just suggestions – and for every suggestion there's likely an exception. Here are our best window treatment practices when considering your window trim: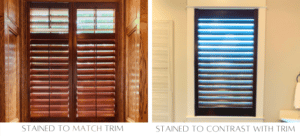 Plantation Shutters

– Most of our clients choose to match their interior shutters with their window trim – and with our free custom-color match process this has never been easier! For a more contemporary look, we recommend choosing a shutter color that contrasts with your trim. This creates a bold and eye-catching look that promises to wow your guests!
Shades

– Customers can of course match their shades with their trim, but with fabric window treatments, most customers choose to have their shades compliment another aspect of a space – such as throw pillows, a comforter, or area rug.
Window Blinds

– As with shutters, many of our customers choose to match their Acadia blinds to the trim of their windows. Our Faux Wood Blinds feature 24 on-trend colors and stains while our Real Wood Blinds come in 17 unique finishes.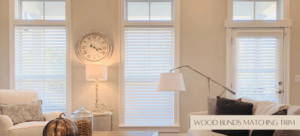 The Bottom-Line
Every room in your home is a canvas deserving of its own colors, textures, and patterns. Each unique space brings with it a unique purpose, and each unique purpose demands window treatments that are not only fashionable but also functional.
When selecting window treatments for your home, you should not feel restricted to only 1 style. Instead, focus on the needs of your space and choose window coverings that meet those needs. Then choose a theme, such as color or shape, to create a cohesive look and feel throughout your home.
Follow us for updates, special offers, and more!
*All offers mentioned are guaranteed as of the date this piece is published. Terms and conditions are subject to change after the publishing date.