We strongly believe that being window treatment experts means more than showing up at your door with a tape measure and sample book. The team you choose should have a tool belt outfitted with problem solving skills, critical thinking, an eye for detail, and the courage to say something when a particular window covering may not be in your best interest.
While the Acadia Shutters team brings this level of expertise to every consultation and installation, the value of these skills is most apparent for clients who have older, historic homes.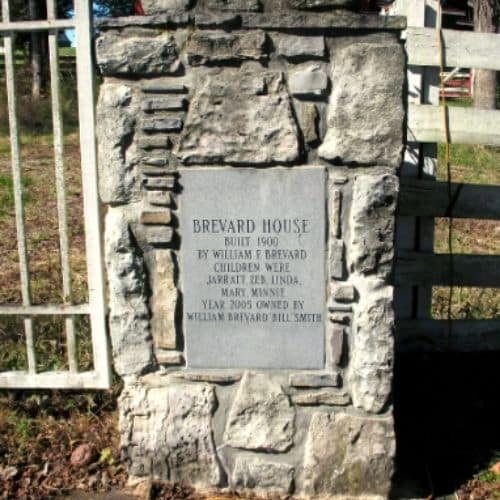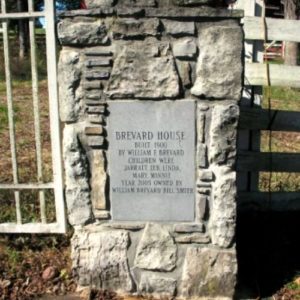 Recently, our Nashville team completed one such project at the Brevard-Macon House, a historic home in Woodbury, Tennessee. Built in 1900, the home was designed in the Queen Anne architectural style and was added to the National Register of Historic Places in 1994.
Boasting 6 fireplaces, original poplar hardwood floors, a stunning wrap-around double porch, and antique fixtures throughout, our team was tasked with designing a window treatment solution that was energy-efficient and one that would blend seamlessly with the ornate finishes found throughout the home.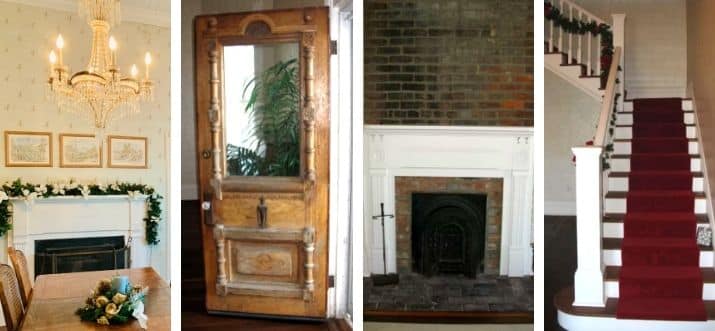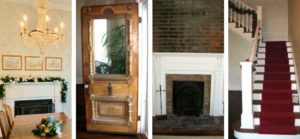 Older homes like the Brevard-Macon House have over a century of settling and shifting. This usually means finding a perfect right angle anywhere in the house is as likely as winning the lottery. So how do you fit a perfectly rectangular window treatment into an imperfect window frame?
Ben Stephens, Acadia's Nashville Senior Sales Consultant, managed the project. "In these scenarios, it's critical to measure the top, middle, and bottom widths of each opening, and specify the narrowest of the three measurements for shades. I also take three measurements in height, from the left, middle, and right sides of the window, and then specify the tallest of the three measurements."
With measurements complete, Ben then reviewed window-covering options with our client. While Roman Shades might seem like the obvious design choice for an older, traditional home, they tend to be less practical as the heavy fabrics can easily become dirtied with dust. Because energy-efficiency in a home as old as the Brevard-Macon house was an important consideration, we presented our client with cellular shades.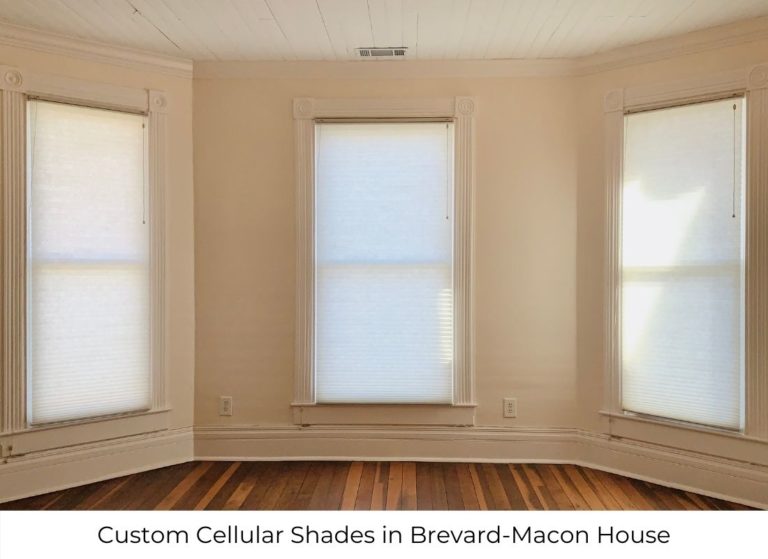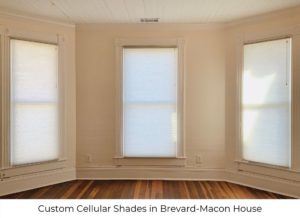 Cellular Shades, also known as Honeycomb Shades, are the most energy-efficient window treatment solution. Constructed with insulating pockets of air (or cells), cellular shades act as a blanket for your windows keeping temperatures comfortable throughout the year.
With our custom cellular shades seeming to be the best option for our client, Ben had one more measurement to take. "Cell shades generally take some time to fully relax in height. They tend to float right above the window sill when first installed," Ben explains. "So, as a rule of thumb, I always add an additional inch to the height, which expedites the settling process and ensures the shades meet the windowsill upon installation."
Ben then worked with the homeowner to select a neutral color that complimented the historic aesthetic of the home, ultimately choosing 2 fabrics: Enchantment Genteel Beige and Enchantment Ridged Sand.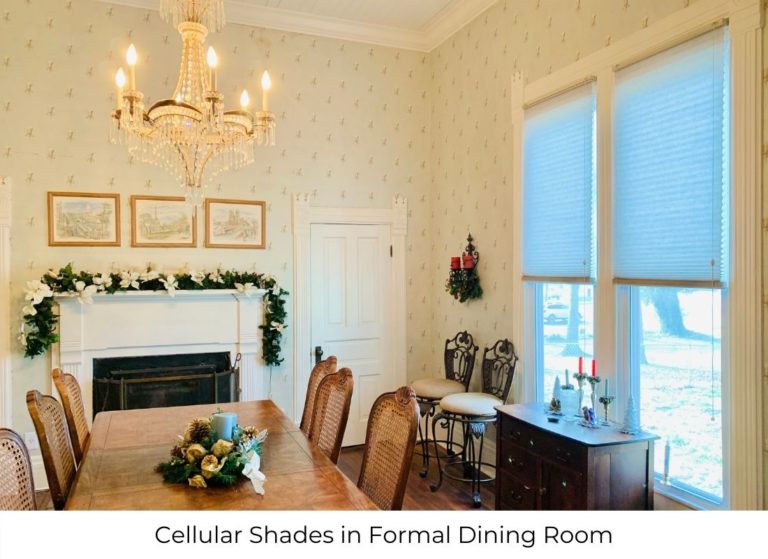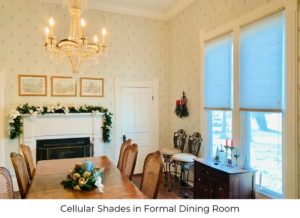 However, there was one more hurdle to overcome. Homes in the Queen Anne architectural style tend to feature a large number of windows so that the interior of the home can bask in natural sunlight. Our clients loved this about the home, but were also keen on maintaining a sense of privacy for the bedrooms. Thus, the cellular shades were custom crafted using our popular Top Down Bottom Up lift technology. This offered our clients the privacy they sought, while also maximizing the natural light that filled the room.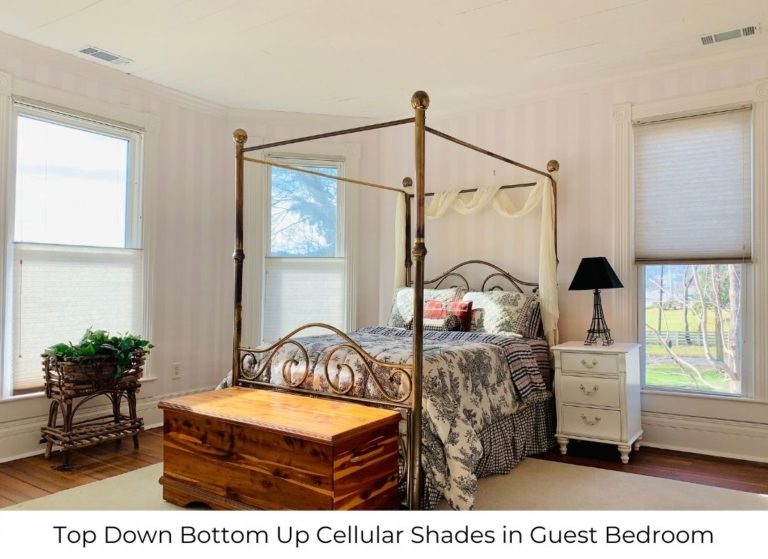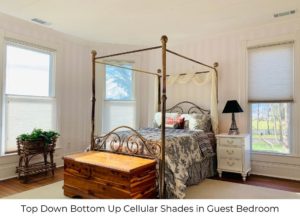 "I love being able to draw them top down or bottom up for just the right privacy when I want while still letting the light in, providing a slight insulation value and UV protecting my furniture," our client said after the installation. "They are also extremely light and take up little stacking at the top. Best yet, some of my historic windows can still fit a valance on top while still showing the beautiful window moldings."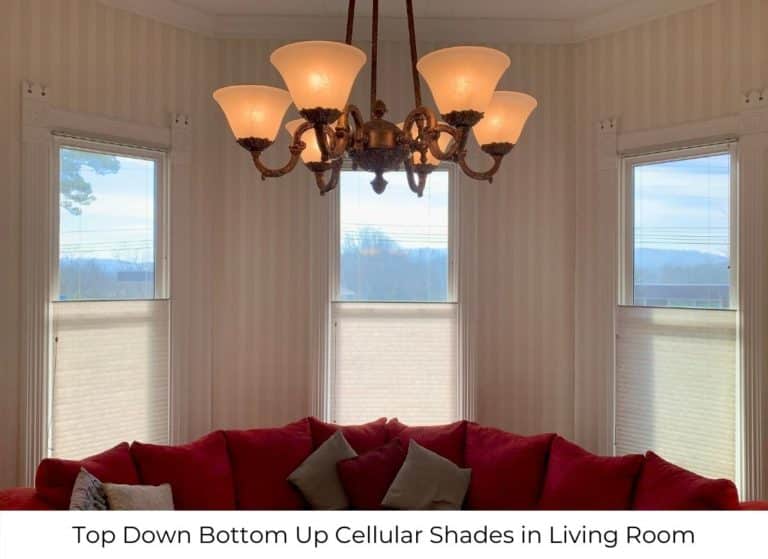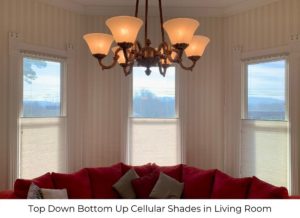 The Bottom Line
There are a lot of good window treatment companies out there, but to be great, it takes a highly-trained team of specialists with instinct, intuition, and forethought.
"I have never had cell shades before and Ben was so helpful explaining what different window covering options would work well for my 7' tall windows that only have 1" of depth," says our client and homeowner of the Brevard-Macon House. "Now my 1900 Victorian home feels light and luxurious when the shades are up, down or anywhere in between."
It's important to note that this level of expertise is not reserved for historic homes. Even new construction properties have imperfect windows. Thus, both your consultant and installer must be able to problem solve and provide solutions on the spot. At Acadia Shutters, we're committed to providing our clients with an extremely qualified team of window treatment experts trained to do the best and to be the best – and that's our guarantee!
Follow us for updates, special offers, and more!