Acadia Shutters is thrilled & honored to be featured in Redfin's latest blog from contributor, Ryan Smith. Here, Ryan provides helpful interior design tips for our Atlanta, Charlotte, and Nashville homeowners looking to freshen up their bedrooms before the busy holiday season. One of those Redfin recommendations…custom window treatments!
Published October 8, 2019: The bedroom is one of the most intimate, comforting and relaxing places in your home. You spend a lot of time in the bedroom, so it's important to keep it in the best condition possible. Over time, it might start to look worn down, outdated and in need of some repair. Here are some quick and easy bedroom remodel ideas to revitalize your space without spending thousands of dollars on a complete bedroom remodel.
Cut the Clutter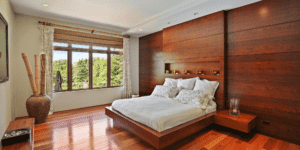 One quick way to refresh your bedroom without spending a fortune is to clean out and de-clutter the room. Remove anything that's been stressing you out in the closet or looking out of place in the room. It's time to update your bedroom, and what better way to do so than to remove all of those old trinkets and pieces of paper that have been piling up for years?
Get a big black garbage bag — maybe two or three, depending on the extent of clutter — and start filling them with items to go to secondhand stores or the trash can. Your closet and bedroom will feel renewed by the time you're done, and so will you.
Remodel Your Bedroom by Changing Out the Bedding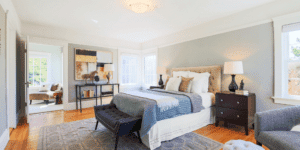 Your bedroom linens are a defining part of how your room feels when you go to relax at night. If you've been looking at the same comforter for years — the one with holes, fraying ends and such — it's probably time to consider a replacement. So why not invest in new bedding?
Look at different prints, designs, and styles that fit your personality or that of you and your spouse. It's easy to find a cover that's affordable and comfortable; then you can get matching sheets and shams.
Update the Windows for Your Bedroom Remodel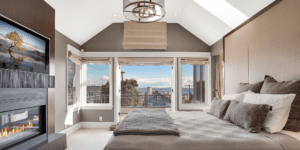 Although this is one of the more arduous bedroom remodel ideas, your bedroom windows could probably use a little TLC. They bring in much-needed sunlight during the day to add that touch of natural comfort, and at night they provide the perfect landscape for romance. Especially if you have a home in Denver or another sunny city, windows can add an entirely new feel to your bedroom. If they're grungy, outdated or in serious need of repair, then you're probably spending more time with them closed and covered than open.
Give your windows an upgrade by hiring a window cleaning service for around $200. Then change out the window treatments with some new curtains, blinds, shades — whichever type fits your budget and the design of your room, just like we did here! They'll look as good as new. Alternatively, hire a professional to give your room a more complete makeover.
Here's a Pro Tip from Chris Ledermeier over at Acadia Shutters: Plantation shutters are one of the most popular bedroom window treatments, offering both classic and contemporary design solutions. Fully customizable with your choice of louver size, custom colors, and a multitude of configurations, plantation shutters can complement any interior design.
Add Some Natural Elements to Your Bedroom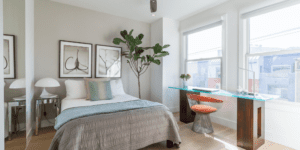 Consider adding houseplants to your bedroom to add an eco-friendly bedroom remodel idea. It doesn't have to become a jungle of standing plants and boxed plants on the windowsill. Just find a few plants that are easy to maintain and that will complement the decor of your bedroom.
You could have one standing plant against the corner, near the window, for the right amount of sunlight. Then you might have another plant on the nightstand or in the windowsill, depending on your design. It adds that extra touch of the outdoors to your room without the need to worry about pests or caring for a lot of indoor plants.
Use Reclaimed & Recycled Materials in Your Bedroom Remodel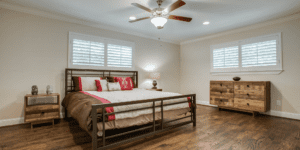 There are plenty of inexpensive, reclaimed materials out there — and they're a great green alternative to newer, more expensive bedroom decor. Use reclaimed lumber to create headboards, nightstands, boudoirs, and trunks in your bedroom.
There's also the possibility of finding secondhand, reclaimed materials and fashioning them into wall decor. If you need help creating some of these items, consult a carpenter who might know where to find the best reclaimed materials. Carpenters can also recommend storage designs for your bedroom decor.
Repaint Your Walls in Neutral Shades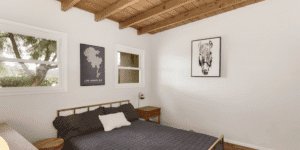 If your bedroom walls are looking particularly scratched, cracked, dated or boring, it may be time to coat them in a new layer of paint. Most homeowners should probably go with neutral paint colors. It helps with simplicity, comfort and the sale of your home down the road.
You can more easily match other decor, linens and accessories to neutral tones than bright colors. The cost to paint a home interior wall averages between $950 and $2,500 if you have it done professionally. With the right tools and prep work, however, you can probably repaint your bedroom over a weekend yourself.
Follow us for updates, special offers, and more!