October is National Window Covering Safety Month, and Acadia Shutters is on a mission to keep our clients, their families, and their pets safe…not just one month out of the year, but all year long.
Whether you have children of your own or are grandparents that love to spoil your grandkids before sending them back to mom and dad, investing in child-safe window treatments is an important consideration when deciding on coverings for your windows.
Child-Safe Window Treatments
When shade and blind cords are exposed, they pose a serious threat of strangulation to both children and pets. In fact, according to the U.S. Consumer Product Safety Commission (CPSC), windows are one of the top five hidden hazards in American homes. Let's put that into perspective…
From 1990 through 2015, nearly 2 children a day under the age of six were brought to emergency rooms as a result of injuries involving window blinds, says a study published in the Pediatrics journal. That amounts to 17,000 children who fell victim to preventable life threatening window treatment injuries. 271 of those children died. The numbers are alarming, but the solutions are easy.
From Acadia's custom plantation shutters to our roman shades, cellular shades and more, we have a multitude of window treatment solutions that are both child-safe and pet-friendly.

Cut the Cord
The biggest risk to children and pets is the threat of strangulation as a result of window blind and shade cords.
"A curious child can quickly get entangled in a window blind cord," says Gary Smith, MD, Director of the Center for Injury Research & Policy at Nationwide Children's Hospital. "This can lead to strangulation within minutes, and the parent may not hear a thing because the child often can't make a sound while this is happening."
Acadia's custom wood plantation shutters are one of the best cordless window treatments for nurseries, bedrooms, playrooms, and any space where children may spend time. Because our plantation blinds come in a multitude of configurations, 3 different louver sizes, and an endless array of colors due to our complimentary custom color program, our team of experts will help you design interior shutters that compliment your style while also providing a safe window treatment solution for your entire family.
Acadia's cordless blinds and shades offer another great child safe window treatment option. Available in nearly every style, our cordless window coverings are not only fashionable and functional, but their innovative design means you don't sacrifice a thing by focusing on safety first:
-Sleek & simple, with 100+ designer colors & patterns perfectly suited for a nursery or playroom
-Cordless options available
-Cordless Top Down Bottom Up options available
-Superior insulation due to their honeycomb design
-Safe option for high moisture rooms such as a child's bathroom

Faux Wood Blinds & Wood Blinds
-Cordless options available; pull or push on the bottom rail of the blinds for the desired height.
-Blind slats can be tilted by either a pull string or wand. For the safest window blinds, choose a wand.
-Cordless options available in select styles
-Room darkening shade liners available for maximum light filtering
-Cordless options available
-Great option for adding natural woven wood texture to a playroom or nursery
Move to Motorized Window Treatments
Smart home technology not only has the ability to add milk to your grocery list, but it can also make your custom blinds and shades one of the safest features in your house. Replacing exposed cords with a remote-controlled window treatments gives you the convenience of modern upgrades with the added bonus of child-safe shades and blinds.
Reduce Risk by Keeping Cords out of Reach
We know that there are many scenarios in which blind cords and shade cords are necessary. Hard to reach windows and homeowners with special needs sometimes require a more accessible option, and while motorized shades and blinds can typically solve these challenges, we understand that remote-controlled window coverings are not an affordable solution for every home owner. Thus, Acadia Shutters encourages those homeowners who may not be able to replace their current window treatments to follow these 4 tips:
Don't forget your Drapes – Window draperies can have exposed cords as well. Check your curtains and make sure all tassels and continuous-loop cords are secured to the wall or floor.
Move cribs, beds, and toys away from windows with corded window treatments as these items can help children reach dangling cords.
Replace any window blinds or shades produced prior to 2001 with window treatments manufactured to current safety standards.
Install cord stops on horizontal blinds in order to prevent inside cords from moving through the slats.
Install Window Cord Stops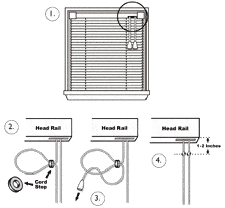 Did you Know? You can order FREE Retrofit Kits for your Window Treatments?
Window treatment safety is taken very seriously in our industry…so much so that you can request a free retrofit kit that will transform window treatments manufactured before 2001 into child-safe window coverings. With safety kits for top down bottom up shades, roller blinds, and more, visit windowcoverings.org or call 1-800-506-4636.
Video Retrofit Instructions (Provide by WindowCoverings.org)
Window Treatments with Continuous Loop Cords
Downloadable Window Treatment Retrofit Instructions (Provide by  WindowCoverings.org)
Roman Shade Retrofit Instructions
Roll-up Blinds Retrofit Instructions
Top Down Bottom Up Retrofit Instructions
 Acadia Shutters & Child-Safe Window Treatments
Acadia Shutters began its adventure into custom plantation shutters, shades, and window blinds in 2003 after seeing a need in the marketplace for a local window treatment company built upon integrity and honestly. Part of being an honest and transparent company means ensuring that the window coverings we sell don't just look beautiful and function well, but that they are safe for the families we serve.
For additional information on child-safe blinds and shades, we encourage you to visit the following resources:
Graber Window Treatment Safety Guide
Follow us for updates, special offers, and more!