With a variety of customization options available, our custom plantation shutters are designed with your vision in mind.
Louver Size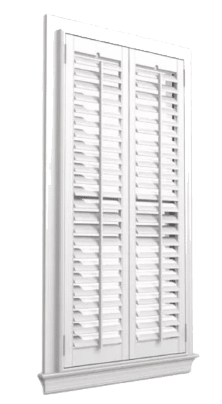 2.5"
Classic 2.5" louvers offer a traditional look, and our slimmest profile. They work beautifully on windows of all sizes, but individual shutter panels do have a size limit. For older homes with small windows, 2.5" louvers are the recommended size.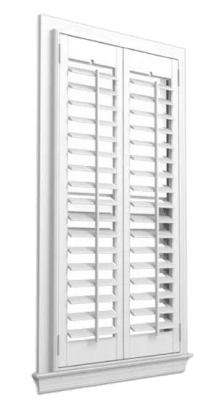 3.5"
Our most popular size, 3.5" louvers have a contemporary look. Wider spacing creates more open views from the interior. Individual panels with 3.5" louvers can be built in larger dimensions. While they fit any size window, 3.5" louvers work best in houses with larger windows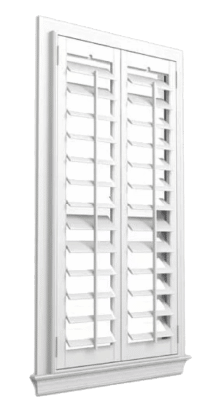 4.5"
With the widest spacing, 4.5" louvers offer the most open views from the inside. Individual panels with 4.5" louvers can be built in larger dimensions. Because wide louvers need room to clear the window surface, 4.5" shutters protrude further into the room. This size is best suited to houses with larger windows.
Divider Rails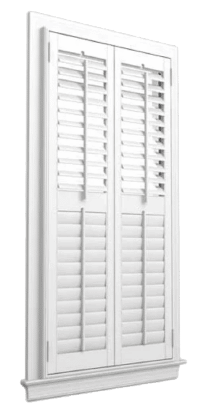 Divider Rail
The Divider Rail separates a shutter panel into upper and lower sections; each section can be open or closed separately. Shutter panels over 6 feet tall require divider rails, since they strengthen the panel. The most traditional window shutters have 2.5" louvers with divider rails.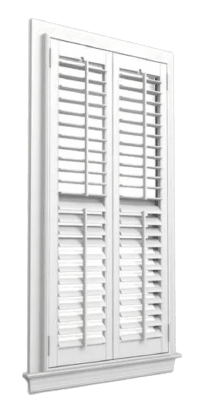 Split Tilt Rod
The Split Tilt Rod option separates the shutter control rod into upper and lower sections; there's no divider rail. Each section can be tilted open or closed separately. Shutters without a divider rail allow a bit more light through when the louvers are open.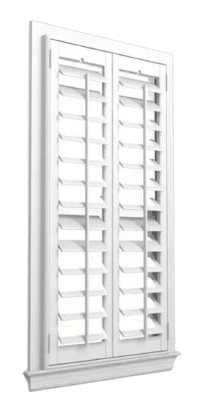 No Divider Rail
Our most popular option, shutter panels with No Divider Rail have a single control rod to open or close all the louvers together. This option won't allow different positions for upper and lower louvers; but it makes adjusting your shutters fast and easy.
Color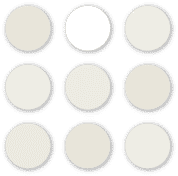 In-Stock Paints
Typically, plantation shutters are painted or stained to match the color of your home's interior wood trim.
Choose from our in-stock color palette for the fastest delivery. Acadia offers dozens of popular neutral shades, so matching your existing paint color is easy. Our multi-coat process includes UV protection to create a durable, lasting finish.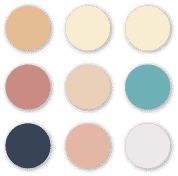 Custom Colors
If your interiors are custom, you'll love our unlimited custom color palette. Acadia Shutters can match any color, and we provide a sample for approval before finalizing your order.
As soon as you receive your sample, match it against your trim color on every window that will have shutters installed. To avoid production delays, it's important to approve your custom color as quickly as possible.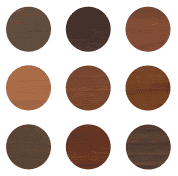 Stains
If your windows or doors have a stained finish, then authentic stained wood shutters are a timeless design choice.
Acadia shutters are hand-crafted of solid basswood. This even-grained hardwood resists warping and complements other types of wood beautifully. Our hand-rubbed stain process includes UV-protectant, for furniture-grade finishes that stand the test of time.
Panel Width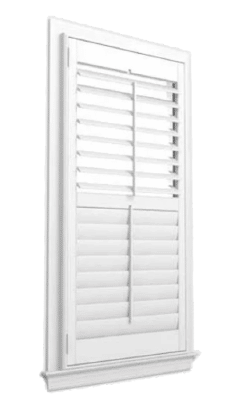 Single
A single shutter panel on each window allows the most light in, and the most open views. However, each single panel is the full width of the window; the larger size may interfere with furniture placement if you plan to swing them fully open.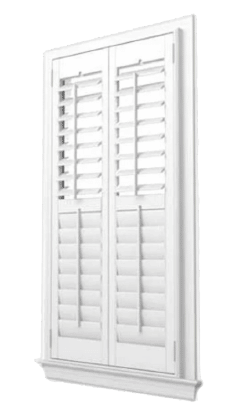 Double
Two shutter panels per window is a classic design. Since the pair of shutters splits to open, the panels are narrower and less likely to interfere with furniture. Double panel shutters cover more window area and reduce the view. The louvers close more tightly, so they block more light.
Hinges
With ten hardware finishes to choose from, Acadia Shutters makes it easy to coordinate your shutter hinges with the hardware in your home. To make hinges less noticeable, choose a finish that will blend, not contrast, with your shutter's paint or stain color.



White




Off White




Satin Nickel




Bright Nickel




Pewter




Dark Pewter




Oil Rubbed Bronze




Bronze




Antique Brass




Polished Brass
---
Additonal Shutter Options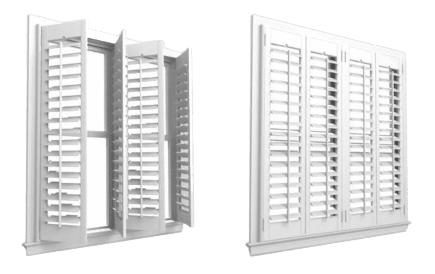 Twin Windows: Open Center
Shutters mounted on 2 or more side by side windows can be covered with a single frame partitioned into one section per window with a vertical t-post.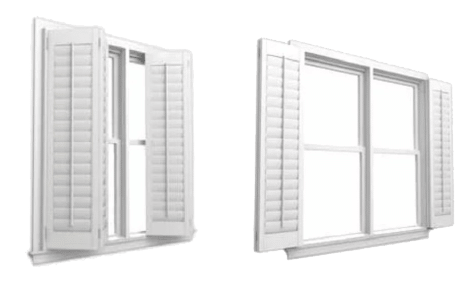 Twin Windows: Double Bi-Fold
Shutters that are double bi-folded are built with 4 panels, with the 2 center panels hinged to the left and right-most panels.
Pro: Allows panels to be folded back against the wall for an unobstructed view.
Con: Panels may sag slightly (approximately 1/8 inch to 1/4 inch) when swung out of the frame and will have to be lifted back into place. This is because the panels are hinged to one another, rather than to a t-post.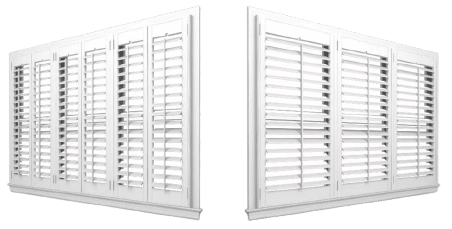 Triple Windows
Shutters mounted on 2 or more side by side windows can be covered with a single frame partitioned into one section per window with a vertical t-post.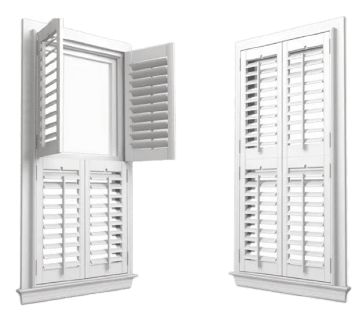 Double Hung Shutters
Like shutter panels with divider rails, double hung panels have a top and bottom section of louvers that can be can be opened and closed independently of one another.
Double hung shutters, however, are actually two separate panels stacked on top of one another. This allows the top panels to be opened against the wall while the bottom panels stay in place.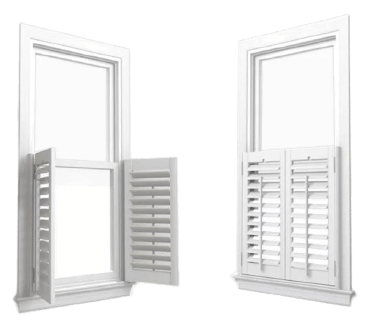 Café Shutters
Café Shutters are built to cover the lower half of a window. This style, named for the curtains that traditionally covered the bottom half of café windows, provides the privacy and architectural interest of plantation shutters while allowing for unobstructed light to pierce through the window's upper half.
Also called half-height shutters, café style plantation shutters are popular with tall windows and homes outfitted with a classic interior design style.