Although plantation shutters originated in ancient Greece, their durable design and unique versatility make them anything but outdated. Customization options such as the size of your shutter louvers give you the flexibility to take your custom interior shutters anywhere from classic to contemporary.
What Are Shutter Louvers?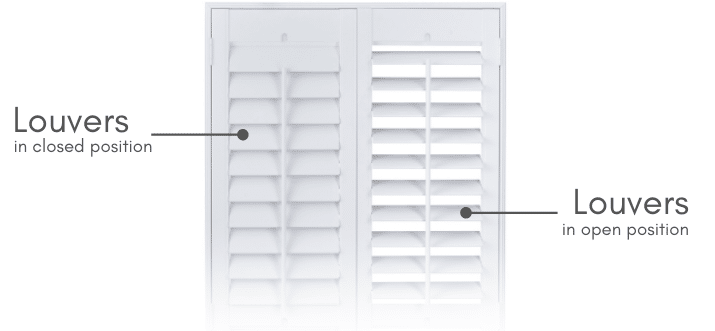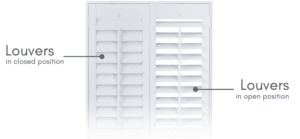 Louvers are the angled slats attached to the vertical stiles that frame the shutter panels. On traditional shutters, the louvers can be opened and closed by moving the center tilt-rod. With the more contemporary, superview shutters, the louvers are attached to a hidden tilt-strip located on the backside of the panel and are moved by adjusting the louvers directly.
Custom wood plantation shutters from Acadia Shutters are available in 2.5", 3.5", and 4.5" louvers. Each louver size creates its own unique aesthetic while also providing varying levels of light control, privacy, and ventilation.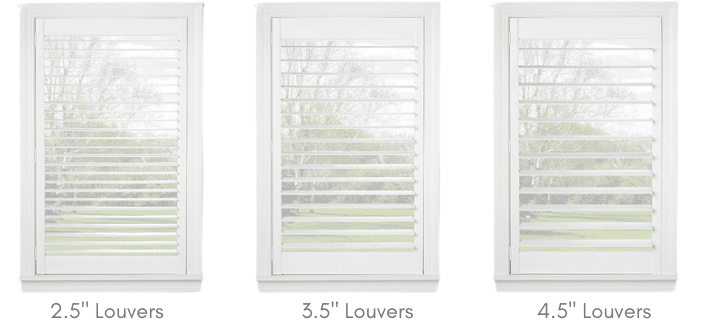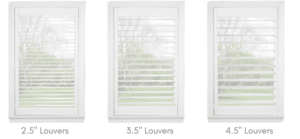 The Benefits of 2.5" Louvers
Plantation shutters with 2.5" louvers are popular in historic homes because of their traditional look. They are also often chosen out of necessity. Windows frames with less depth require 2.5" louvers so that the louvers have enough clearance to open and close without hitting the windowpane.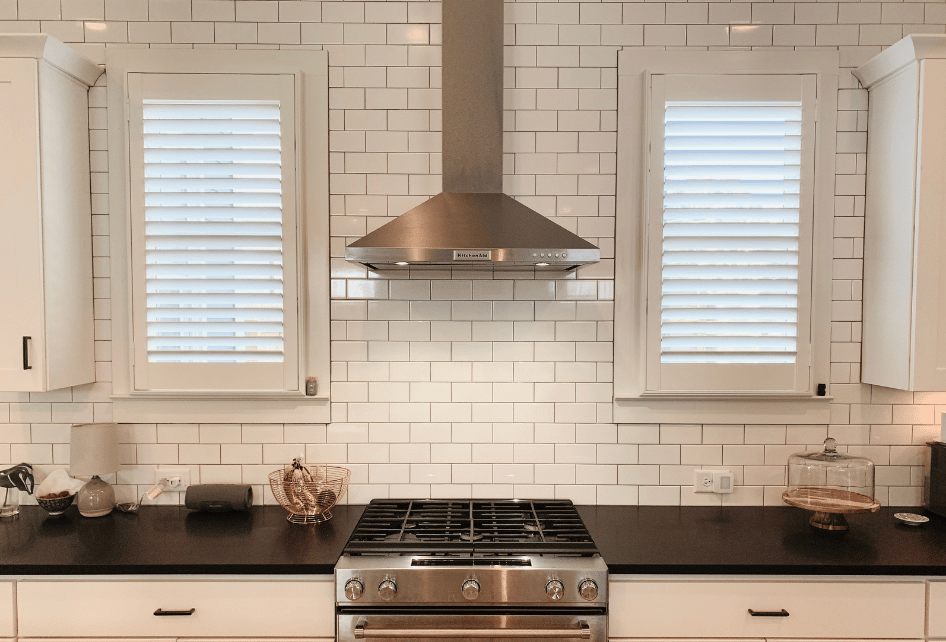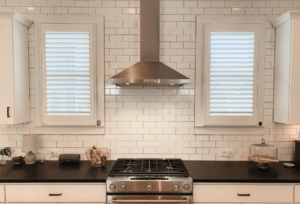 Superview Shutters featuring 2.5″ louvers
While 2.5" louvers are the practical choice for smaller windows, they are less popular with homeowners wanting more flexibility in design and light control. Due to their smaller size, it takes more louvers to cover the window. This creates what some feel to be a cluttered look, obstructing one's view of the outside while also restricting the amount of light that enters your space. 2.5" louvers also cannot be used on plantation shutter panels larger than 29" as the louvers risk bowing.
Acadia Pro-Tip: Interior shutters with 2.5" louvers are the most difficult out of the 3 sizes to clean. This is because the space between each louver is smaller and there are simply more louvers to clean.
The Benefits of 3.5" Louvers
Plantation shutters with 3.5" louvers are the most popular choice amongst Acadia Shutters customers. Their medium size provides what many consider to be the ideal amount of light control and privacy.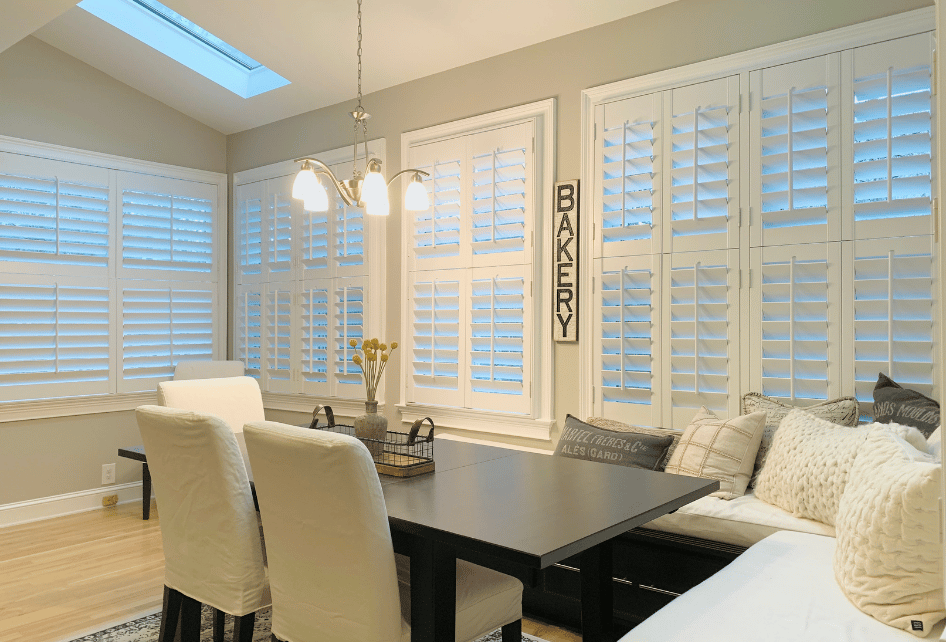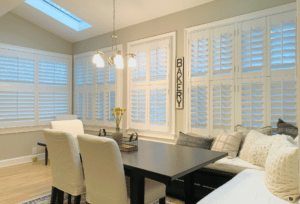 Plantation Shutters featuring 3.5″ louvers
With the ability to be used on panels up to 36" in width, 3.5" louvers are a great window treatment option for both medium and large sized windows. The larger panel sizes in combination with the larger louver size means less obstructed views, more light, and a look that can compliment nearly any interior design aesthetic.
Acadia Pro-Tip: If you're unsure which louver size is the best fit for your windows, then 3.5" louvers are more than likely the best pick for you. Their adaptability to multiple interior design aesthetics while providing you just the right amount of light control and privacy makes them the best window treatment for nearly any home.
The Benefits of 4.5" Louvers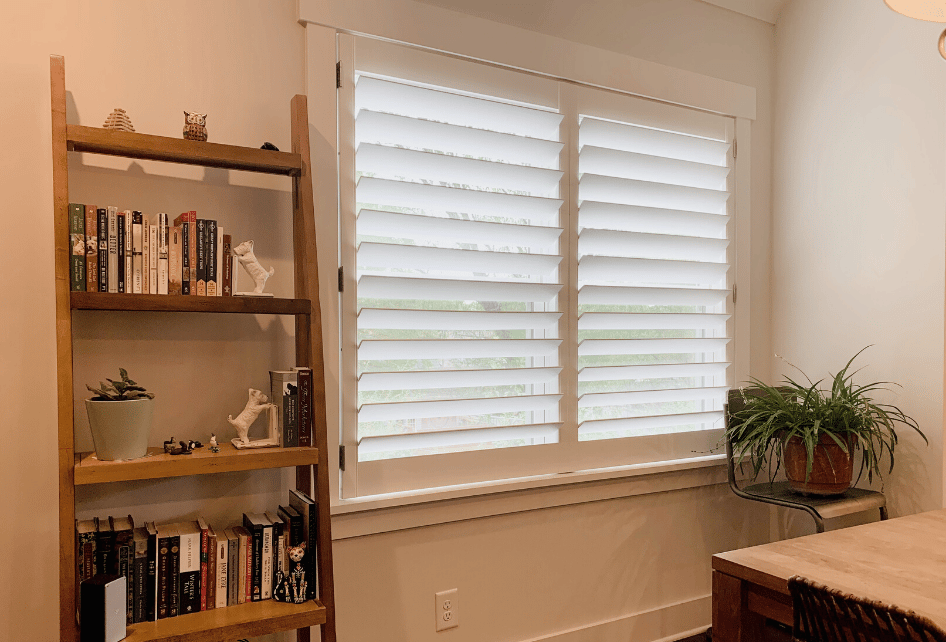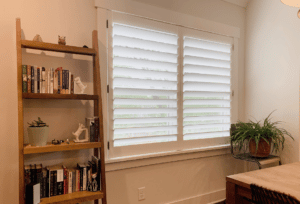 Plantation Shutters featuring 4.5″ louvers
If you're looking for that contemporary, clean modern look, then plantation shutters with 4.5" louvers are the shutters for you! These larger louvers first became popular with coastal homes boasting panoramic ocean views. Why? 4.5" louvers allow in the most natural light and because the louvers are larger, it takes fewer of them to cover the window. Thus, when open, the shutters seem to disappear into the exterior scenery.
The larger size of 4.5" louvers also makes them a favorite amongst those wanting an easy-to-clean window treatment. The additional space between the louvers and the simple fact that there are fewer louvers to clean makes daily upkeep a breeze!
Due to their size, we do normally recommend 4.5" louvers for medium to large windows as they can appear bulky on smaller windows.
Acadia Pro-Tip: To achieve that ultra-contemporary look, choose our Superview Shutters with 4.5" louvers. Superview shutters hide the tilt rod on the backside of the shutter panel. With no visible tilt rod, your windows will boast the best in unobstructed views and natural light.
The Bottom Line
Interior Shutters are one of the most versatile and durable window treatments, so it's no surprise that they've stood the test of time. With 3 different louver sizes, each unique in function and fashion, we're confident that our team of window treatment specialists can design shutters with your vision in mind. From Farmhouse to French Country, Minimalist to Mid-Century Modern, Acadia Plantation Shutters promise to be your Forever Shutters.
Request your Free In-Home Consultation today and explore our entire collection of custom plantation shutter options!
Follow us for updates, special offers, and more!