Plantation shutters have traditionally been known as a premium window treatment with higher costs, but the rising prices of shades and blinds have made shutters more competitively priced, usually ranging from $330 to $500 per window. Customers often assume that plantation shutters are the most expensive window treatment option and are surprised to find that they actually aren't. The reason: Although they are made of expensive material and built like custom furniture, shutters are easier to manufacture than shades. Real wood shutters, properly kiln-dried, primed, and painted are the highest quality window treatment product, in our opinion. Plus, they are made locally in Buford, Georgia.
The size of your windows has the greatest impact on the cost of plantation shutters. Shutters are typically priced on a per sq. foot basis. To determine the price of shutters, first determine the square footage covered by taking the width of the window in inches and multiplying it by the height of the window in inches and dividing by 144. Multiply the square footage by the price per square foot to determine the price for shutters.
When ordering shutters, be sure to fully understand what is and what is not included in your total price. Acadia Shutters customers receive a lifetime warranty, professional measurement, professional installation, custom color match, and any choice of louver size (2.5", 3.5", or 4.5") at no additional cost. In addition, our customers have the ability to further personalize the look and functionality of their shutters by choosing to have single or double panel shutters covering each window, whether or not to include divider rails, and with things like split tilt rods and custom hinges without increasing the price.
On the other hand, there are options that will increase shutter price, such as sunbursts, stained finishes, arched top and superview shutters. These customizations are more specialized and labor intensive and can increase the overall production time by a few weeks..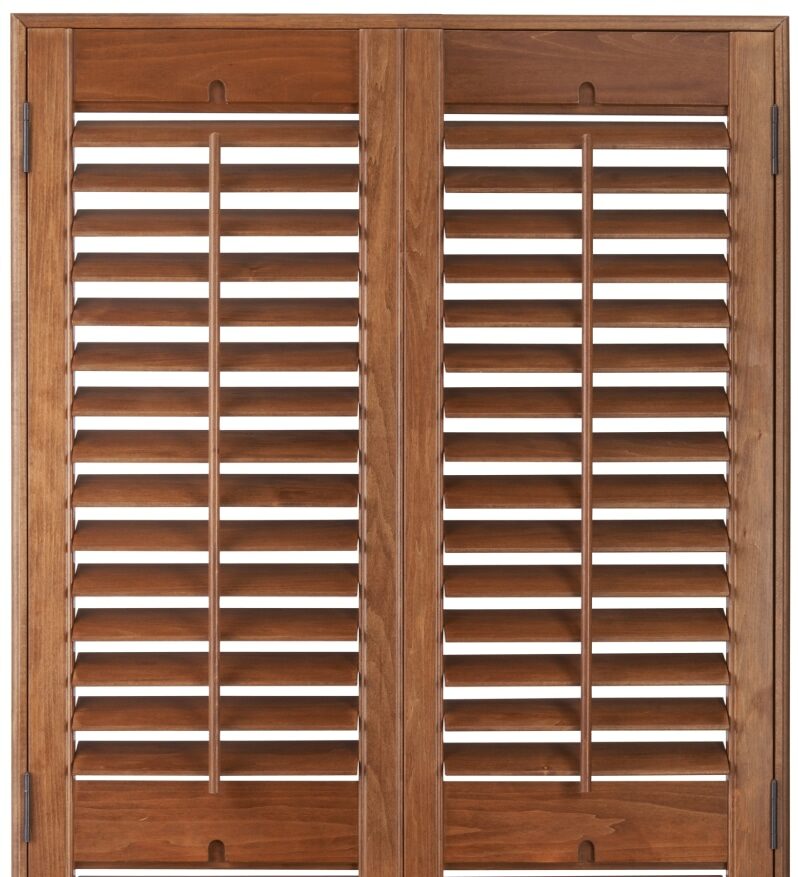 Stained Wood Shutters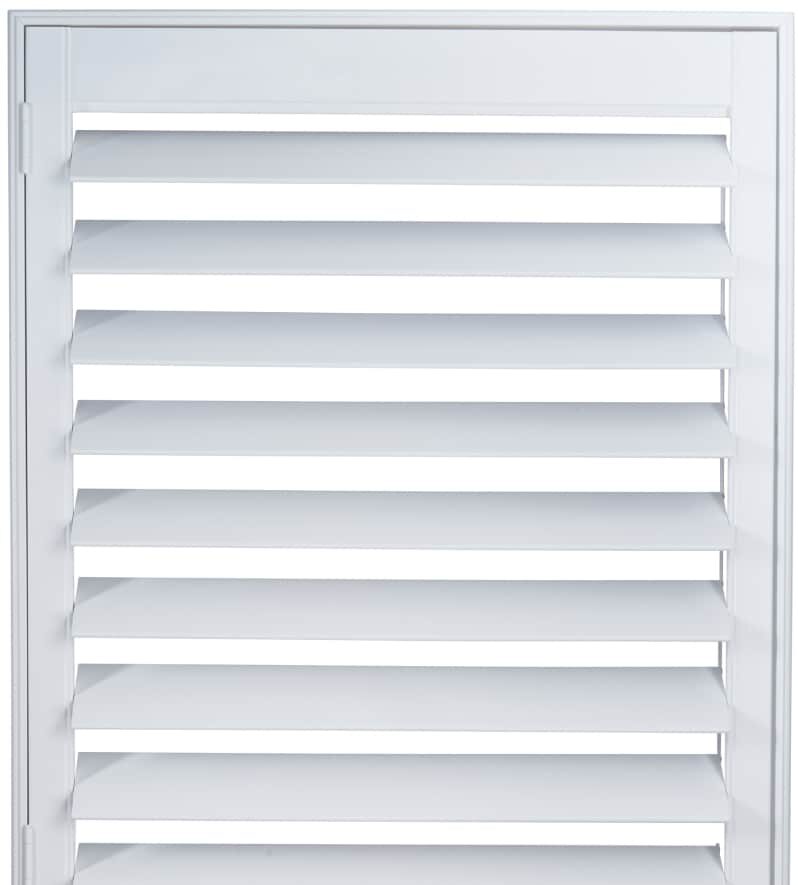 Superview Shutters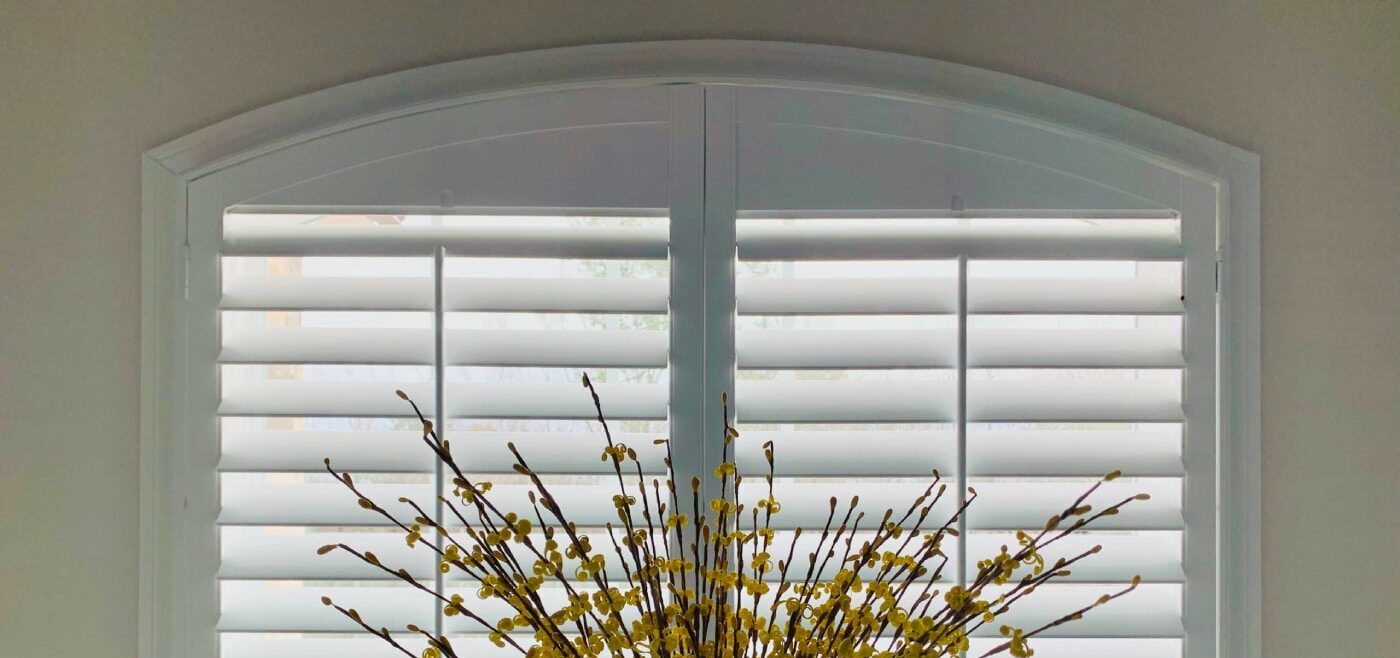 Arched-Top Shutters
As a general rule, just keep in mind that real wood shutters are superior to faux wood or any other composite material products. In fact, they are often more expensive AND take longer to arrive because PVC shutters are commonly manufactured overseas.
Comparing Prices of Plantation Shutters to Other Window Treatments
Here are what other window treatments cost – relative to plantation shutters: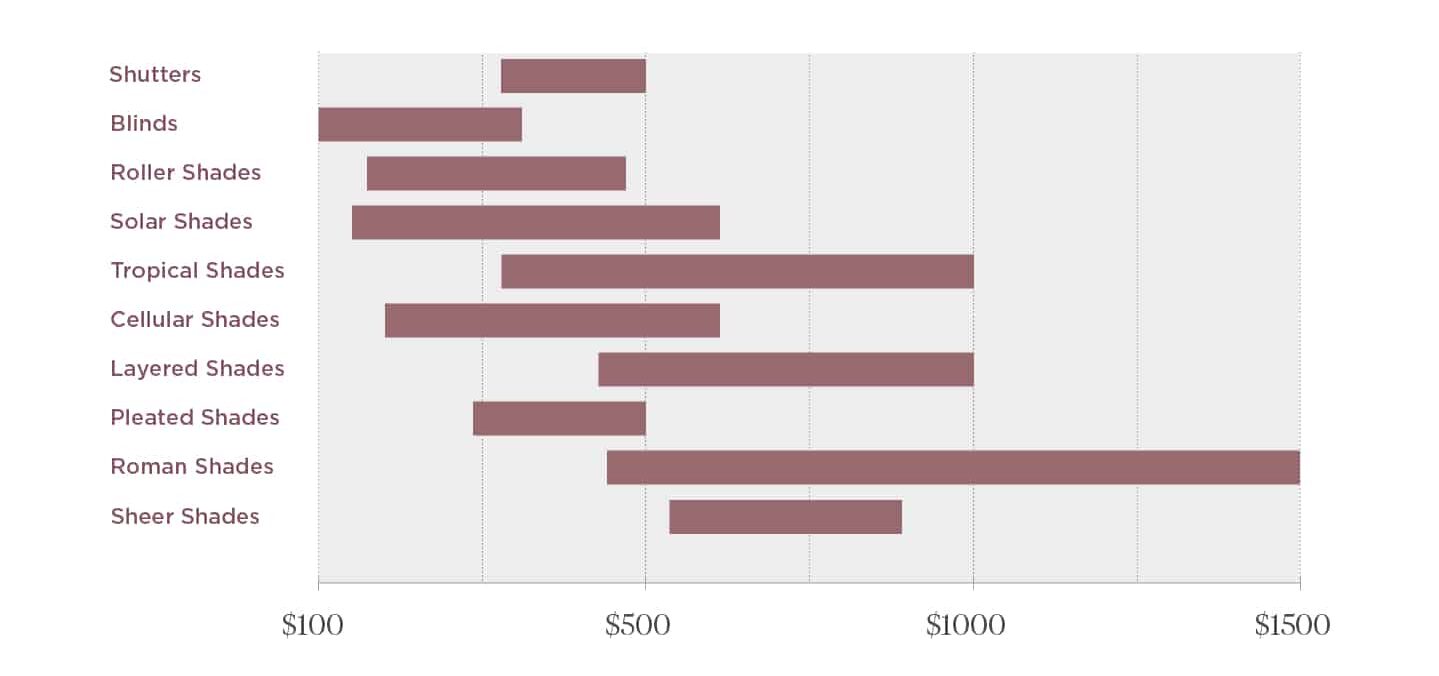 **Price range estimates include installation and tax and are based on medium sized windows 31" X 61" and large windows 39" X 74". All price range estimates are as of April 2023 and are subject to change.
Blinds are an economical choice for window treatments, typically priced between $100 and $345 per window, and are made of either premium real wood and faux wood material. Blinds prices have increased in recent years due to federal safety requirements mandating cordless lift systems in many cases. Also, blinds lack the aesthetic appeal of shutters and may require more frequent replacement.
Shades, on the other hand, can be more expensive than shutters or blinds, with prices ranging from $150 to $1,500+ per window. While they offer some level of insulation and energy efficiency, their effectiveness in providing privacy, light control, and child-safety depends on the style and add-on features chosen, such as liners or cordless options. Shades have a lot of components and the materials come from all over the world. In addition, shade manufacturers like HunterDouglas and Springs Window Fashions (manufacturer of Graber®) have purchased many of the smaller manufacturers resulting in higher prices.
In summary, plantation shutters are a worthwhile investment that can elevate the appearance, functionality, and value of your home. Despite their higher price when compared to some other window treatments, they offer unique advantages such as durability, insulation, and energy efficiency. With shutters, you get a lot for what you pay. Plantation shutters are popular because of the great value they offer relative to other window treatments.
Want to find out precisely how much custom plantation shutters will cost for your project? Get in touch with our team today to schedule your free in-home design consultation and instant onsite quote.