You wouldn't attend a black tie event wearing a t-shirt and flip-flops. So why put your home on the market when it's not dressed properly?
Speak to 10 different Realtors® and you'll probably get 10 different answers as to what improvements add value to a home. However, all real estate professionals tend to agree that the key to a successful home sale is making sure the home is outfitted with good lighting.
In fact, Zillow mentions lighting specifically in its list of  "Best low-cost home improvements for resale" stating that "good lighting is crucial to showcasing your home's features," going on to say that one of the best ways homeowners can do this is by investing in custom window treatments.
Regardless of whether you have plantation shutters, roller shades, roman shades or blinds, Acadia Shutters' custom window treatments do as much to accent lighting as they do to keep it out.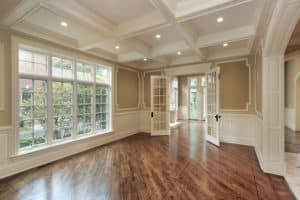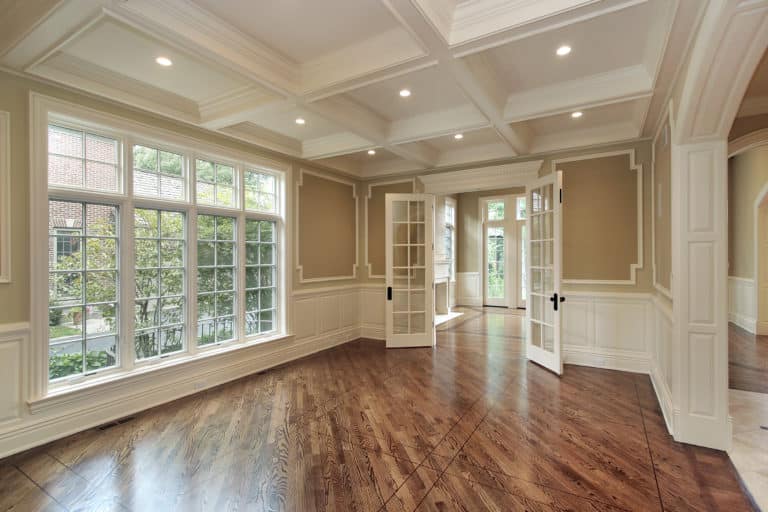 How much Value do Custom Window Treatments Add to a House?
Unfortunately there is no formula for calculating how much value plantation shutters or other custom window treatments add to a home, but the added value is undeniable.
"Everything in terms of staging and décor matters when selling a home," says Sherry Ajluni, CEO of Sherry and Co. with Compass Real Estate in Atlanta, Georgia. "Some things we don't necessarily get more out of, like basic blinds, because they are expected. However, plantation shutters do add value to the sale. They are a selection in the MLS listing, and we point out plantation shutters in the advertising copy for the home."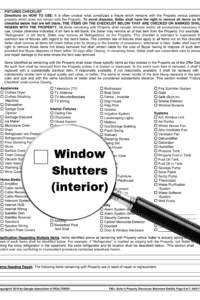 Because of their value, the Georgia Real Estate commission added plantation shutters to the 2019 Seller's Property Disclosure. Historically, buyers and sellers have contested whether or not interior window shutters accompany the sale of the property. Despite these shutters being custom fit to one's windows ultimately making them a fixture, sellers have been known to remove them from the home upon move out, thus prompting the Georgia Real Estate Commission to make this much needed change
Window treatment value doesn't stop there. Like other custom finishes, investing in plantation shutters, woven shades, cellular shades, blinds and other custom window coverings will help in reducing the days your home is on the market. This is especially important when real estate inventory is high or when you are part of a large townhome community where your home is in competition with similar homes within the same neighborhood. Why is this important? Sherry Ajluni explains:
"Buyers are super picky right now and want everything done for them," says Sherry. "And we know they love having nice window treatments already in place."
With custom window treatments already in place, your home will stick out from the competition, making your home a buyer's first choice over other comparable homes in the neighborhood – leading to fewer days on market! So while your neighbor has to make another mortgage payment and pay an additional month of utilities and taxes while sifting through a sea of picky buyers, you're at the closing table, with a smile on your face & more money in your pockets.
Why do Window Treatments Increase Home Value?
Any custom finish, whether it be window treatments, appliances, fixtures, or landscaping, makes a home standout in what can often be an overwhelming amount of cookie-cutter houses. The best finishes, however, are not all about the look. Those with the most value provide additional function. Custom window treatments do just that!
Besides their good looks, custom window coverings are best known for increasing energy efficiency. According to energy.gov, "About 30% of a home's heating energy is lost through windows. In cooling seasons, about 76% of sunlight that falls on standard double-pane windows enters to become heat.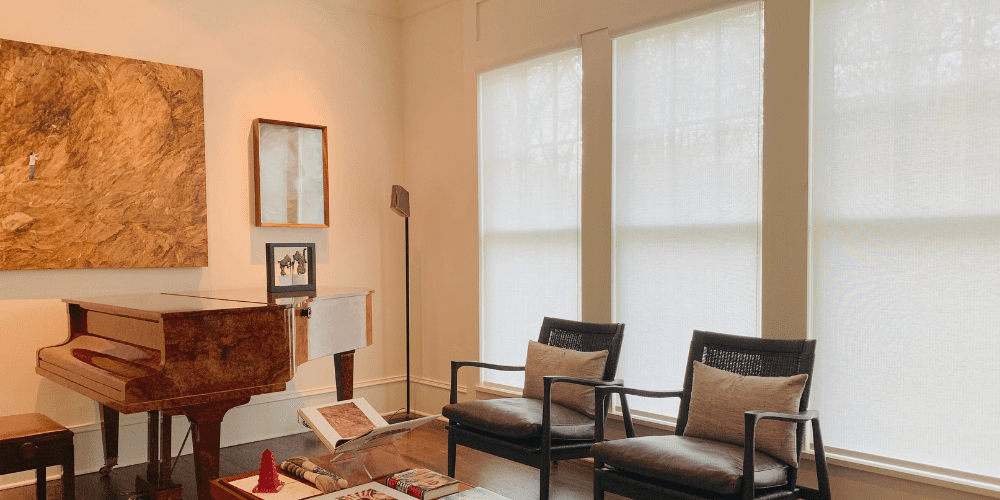 Operable window treatments, those that can be opened and closed, allow homeowners to easily adapt to changing weather and seasons. In a study presented by energy.gov, 75% of residential window treatments remain in the same position day after day. Be strategic with your plantation shutter louvers and window shade positioning. If it's winter and sunny, open your blinds and let the sunshine warm your home. If it summer and sunny, lower your shades and close your shutter louvers so that you air conditioner can enjoy a much needed rest!
Buyer Beware – Design matters  
One of the best parts of window treatment design is that the possibilities are nearly endless. From plantation shutter louver size options to roman shade fabrics to faux wood blinds vs. real wood blinds – Acadia Shutter window treatments can be made in any color or fabric imaginable. But let us proceed with caution.
We want you to love your new window treatments, but if you're planning to sell your home at any point, you want the buyer to love them as well.  This means pursuing a custom window treatment design that appeals to as many homebuyers as possible. This does not mean sacrificing style. This means being strategic in choosing a window treatment solution that provides architectural interest, customizable options, and sees a return on its investment. The solution – Plantation Shutters.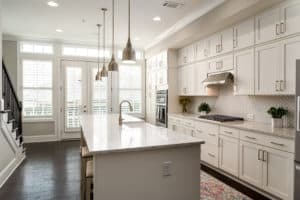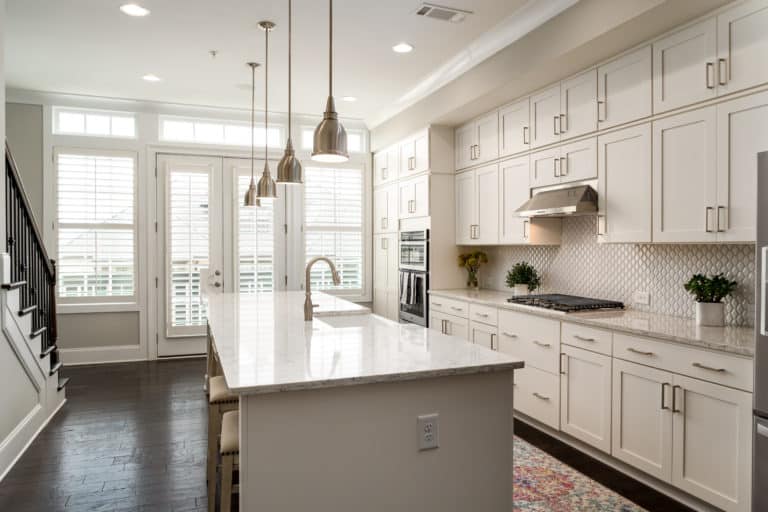 Our hardwood plantations shutters are made locally and can be custom-colored to match any trim, accent color, or statement piece at no additional cost. With 3 different plantation shutter louver sizes, various hardware options, and numerous construction options from double hung shutters to café shutters, you can feel confident knowing that you're purchasing a custom window treatment you'll enjoy and one that will instantly add value to your home.
But don't take our word for it. Nearly every real estate professional will agree, as did Forbes Magazine in their issue titled "10 Upgrades Under $1,000 That Increase Home Values:
"Is your home still sporting aluminum blinds or old-school vertical blinds? Consider replacing them: New window coverings can really modernize a room. To add a truly upscale look to a room, try plantation shutters — they can be a major selling point with the next people to own your home."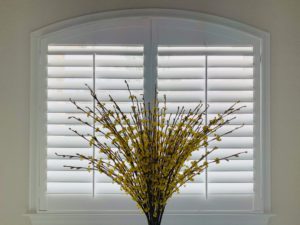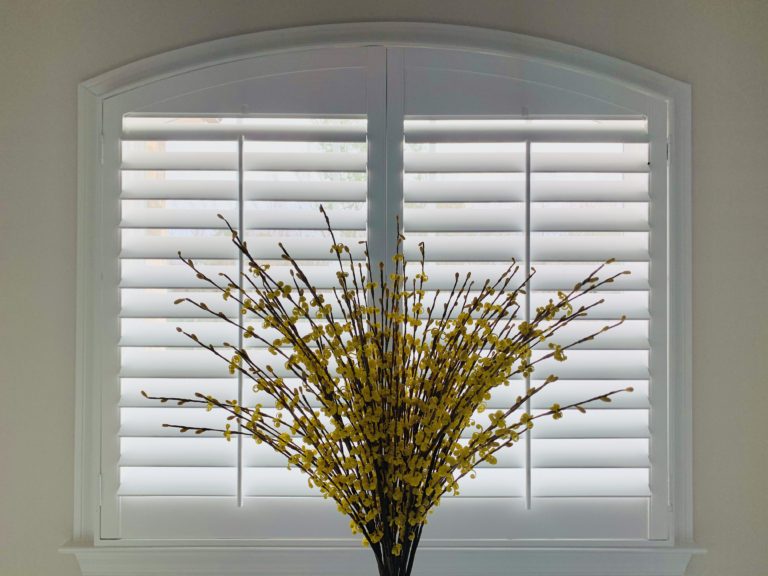 While beauty is in the eye of the beholder, value is often in the hands of an appraiser. A buyer may see great value in plantation shutters, but in real estate deals dependent upon financing, it's up to the appraiser to determine what has value and what does not. Candy Watts, an appraiser with over 12 years experience and with more than 9,000 appraisals to her name gives her perspective on custom window treatments:
"If you're going to put lots of money into a window treatment, my personal observation is that plantation shutters, very generic blinds, but high quality, will bring you the most money back on that investment."
Thus, hardwood plantation shutters not only provide instant gratification and function, but they last – guaranteeing an investment for both you and any future homeowners.
The Bottom-Line
You have many options when upgrading your home, but not all improvements are created equally. Investing in custom window treatments are just that – an investment, that when done by window treatment specialists such as Acadia Shutters, will increase your home value, decrease days on market, and provide energy-efficiency…all at a price you can afford!
Follow us for updates, special offers, and more!