When it comes to window treatments, there are many options to choose from, each offering unique styles and benefits. Woven shades, also known as bamboo shades, natural woven shades, or woven wood shades, have gained popularity for their distinctive appearance and eco-friendly materials. We will explore what woven shades are and help you determine whether they're the right choice for your home.
What are woven shades and are they a good option for my interior design?
Woven shades are window coverings made from woven fibers such as bamboo, reeds, grasses, jute, or other materials that are often sustainably sourced. These materials are woven together to create a textured and visually appealing surface. The result is a window treatment that brings a touch of nature indoors and adds a warm, organic feel to any room.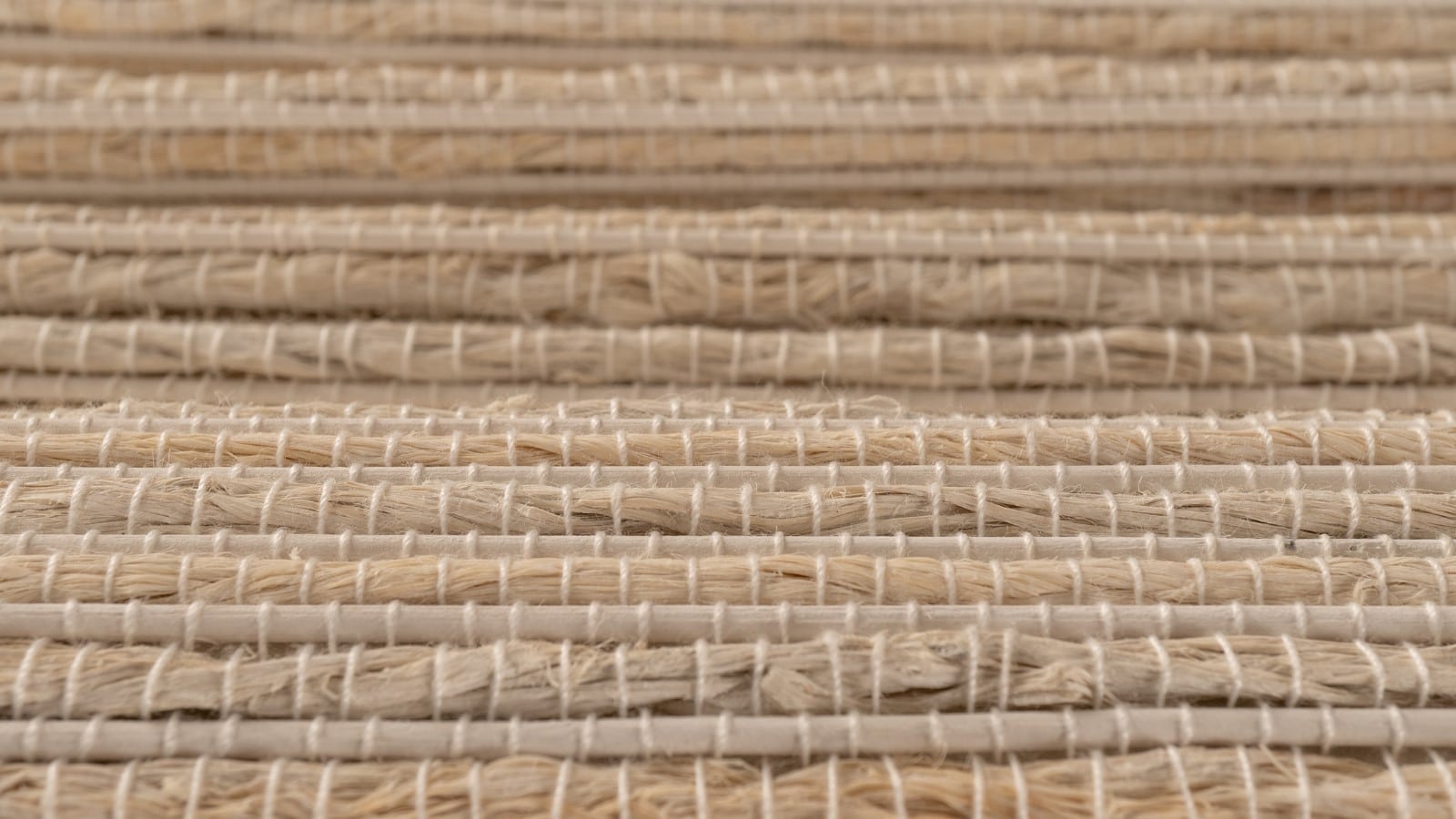 Close-up of the intricate weaves in woven shades.
Key features of woven shades:
1. Natural Aesthetics: Woven shades offer a natural and rustic look that complements various interior design styles, from coastal and bohemian to traditional and contemporary. For a cleaner finish, homeowners may opt for edge banding for additional color and definition.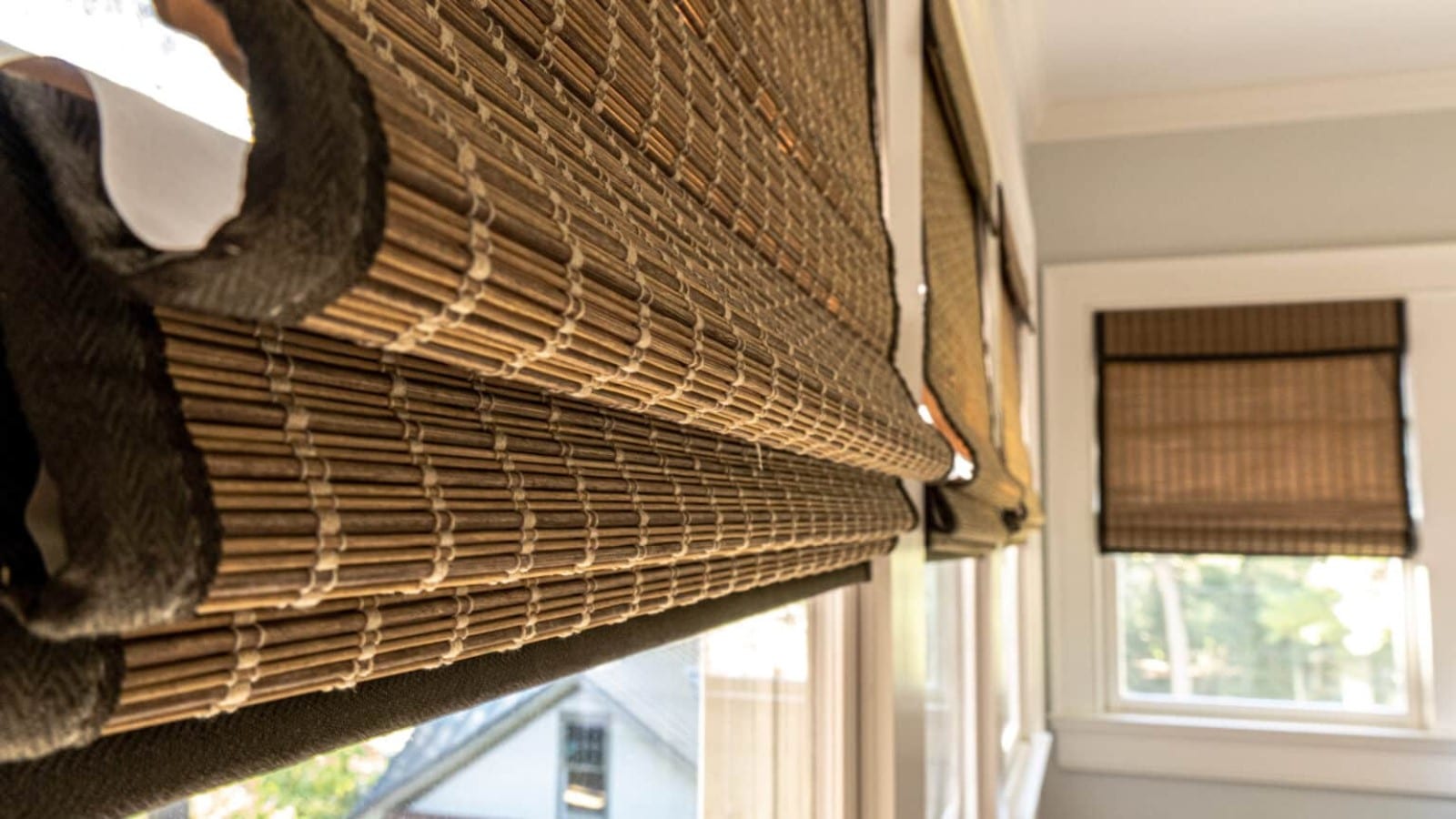 Edge banding on woven shades that elevate the space.
2. Light Filtering: Depending on the weave and material, woven shades can provide varying levels of light filtration with shade liners. Some allow soft, diffused light to enter, while others offer greater opacity and light control.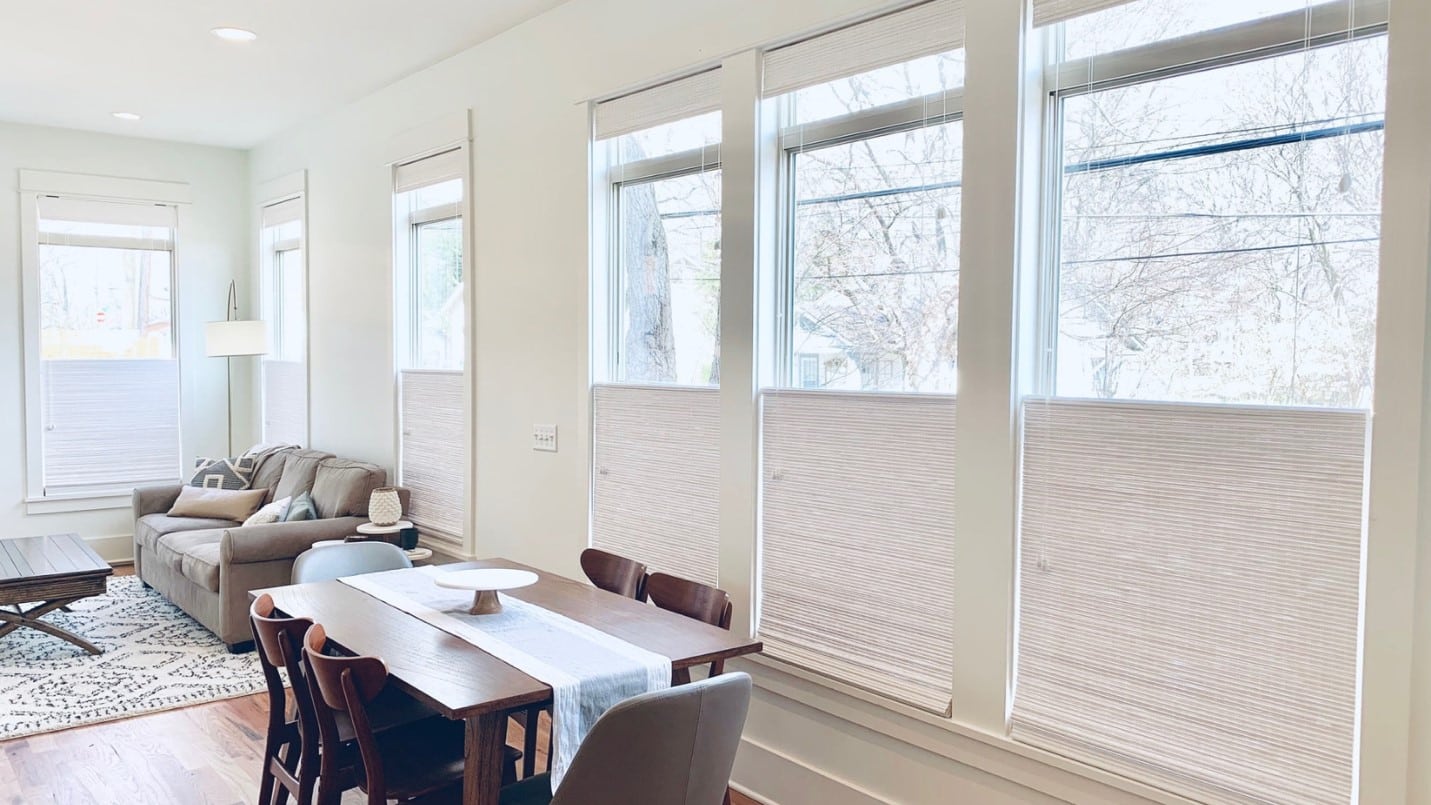 Top down/bottom up woven shades that maximize natural light while providing privacy.
3. Eco-Friendly: These shades are often considered eco-friendly because they are made from renewable resources. Using sustainable materials contributes to a greener and more environmentally responsible home.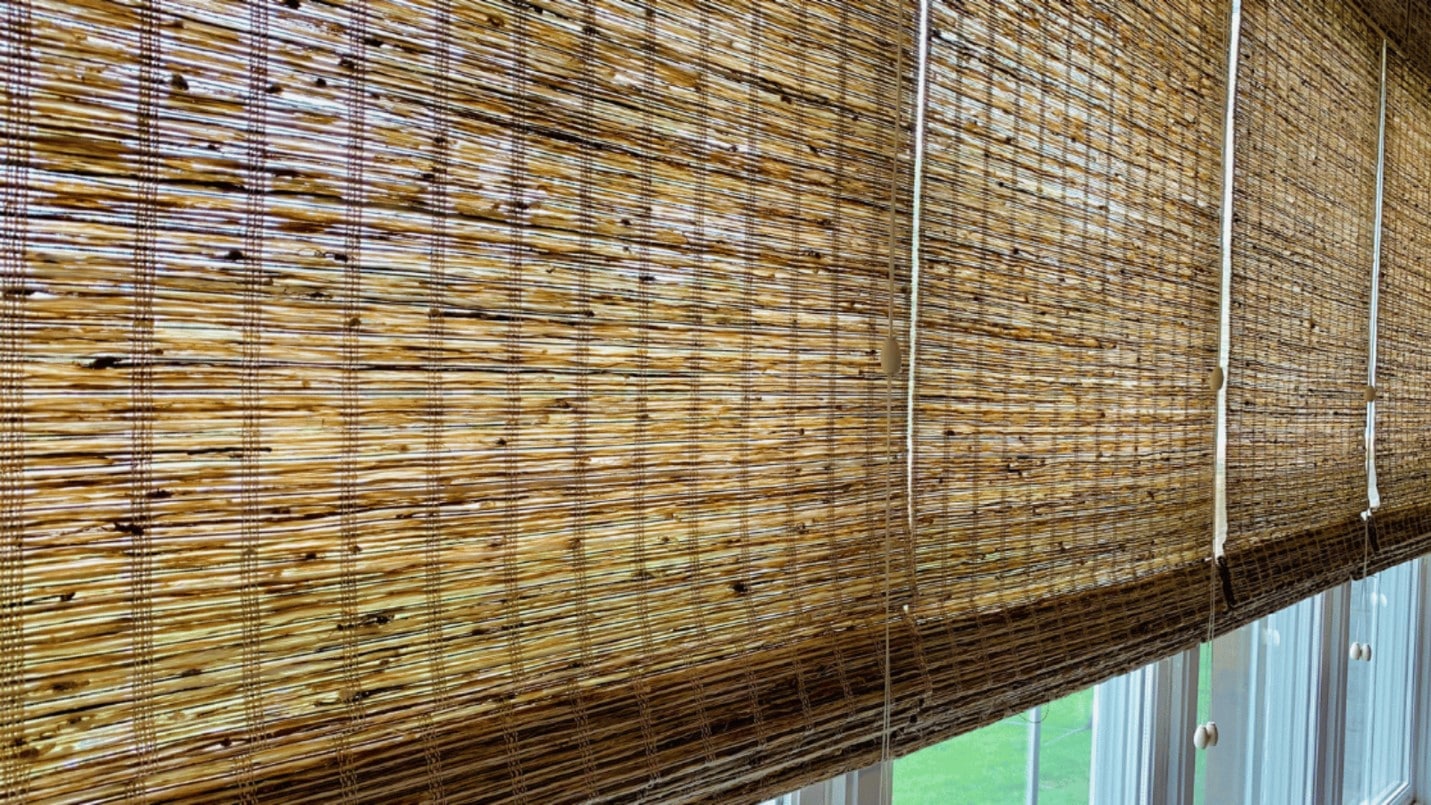 Woven shades with Beachfront Thatch, sustainably sourced materials.
4. Durability: Woven shades are known for their durability, making them suitable for high-traffic areas and homes with pets and children.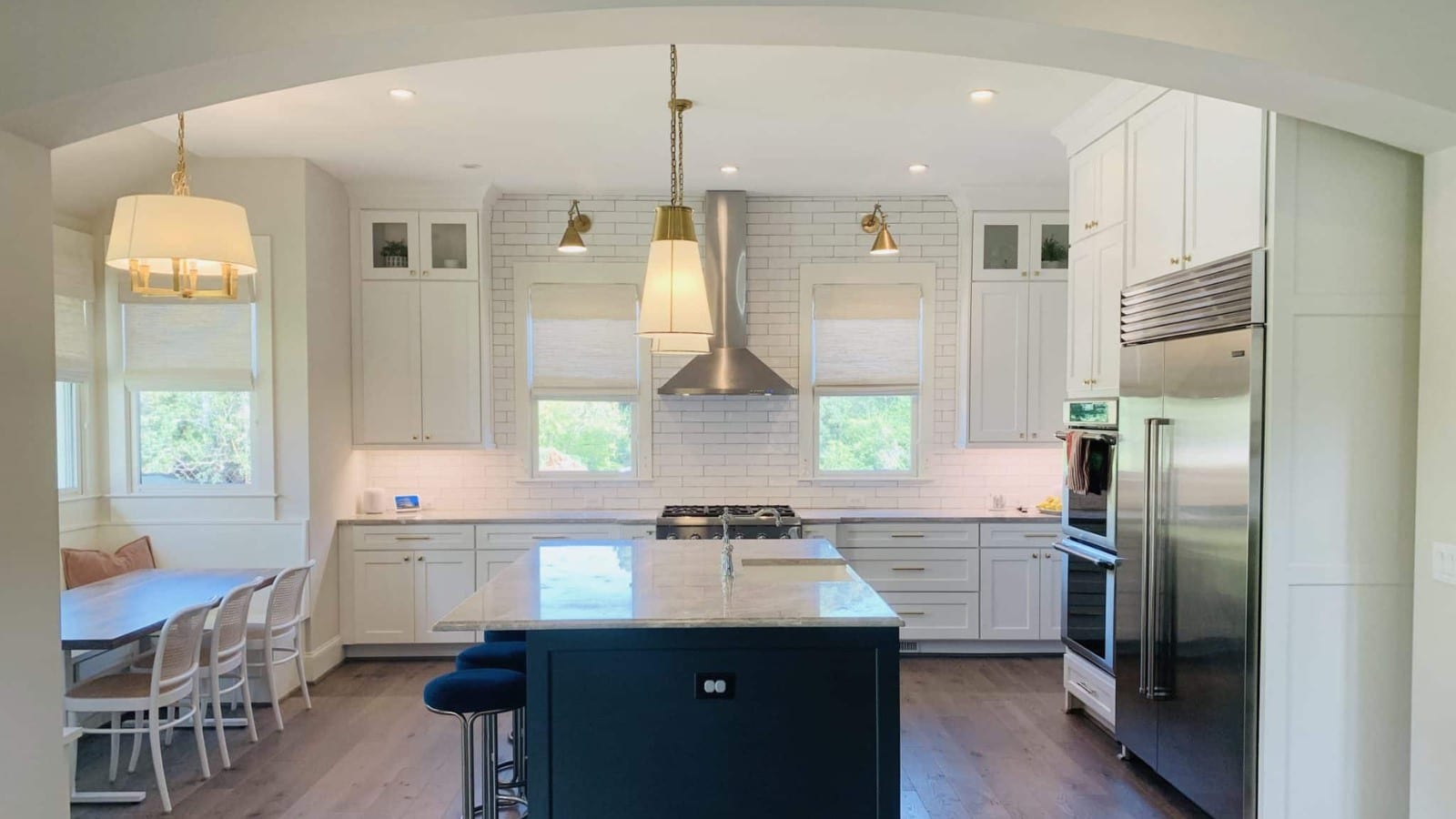 Neutral woven shades in an open concept home that ties together this contemporary look.
5. Customization: You can customize woven shades to fit your window dimensions and choose from various colors and weaves to match your interior décor.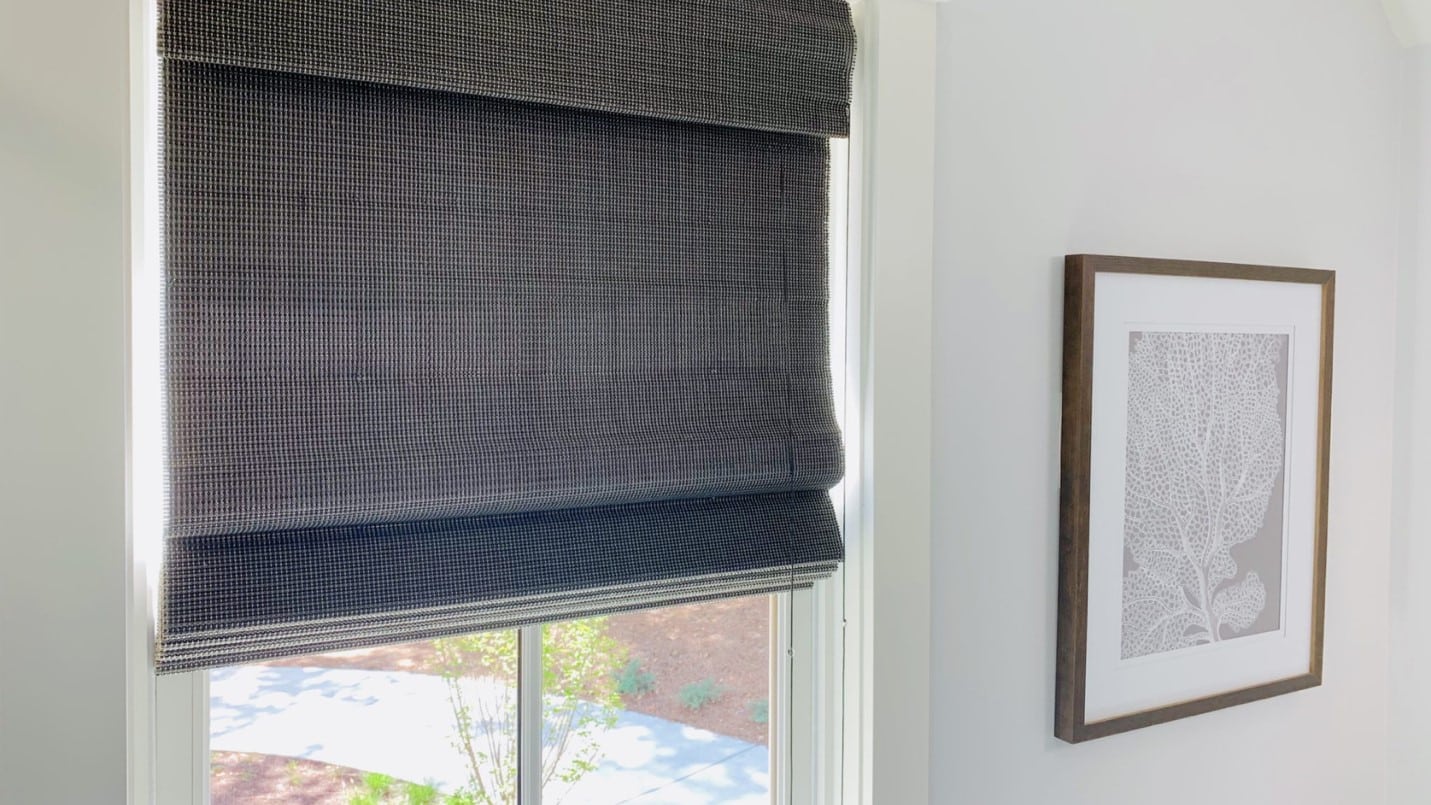 Woven shades in gray to illustrate the versatility of style options.
6. Safe Lift Alternatives: In addition to traditional corded lift options, woven shades are compatible with pet and child-friendly lifts that eliminate choking hazards.
Continuous loop: A lift mechanism that uses a continuous cord loop to raise and lower the shade, allowing for smooth and effortless control.
Cordless: A lift that eliminates the need for cords or chains to operate the shade. Homeowners lift or lower the shade directly and the shade stays where released, making it a safer option while providing a clean and uncluttered look.
Motorized: A lift that involves an electric motor integrated into the shade, allowing for remote or app control of shade movement. The motorized lift option provides homeowners a sleek and elevated atmosphere.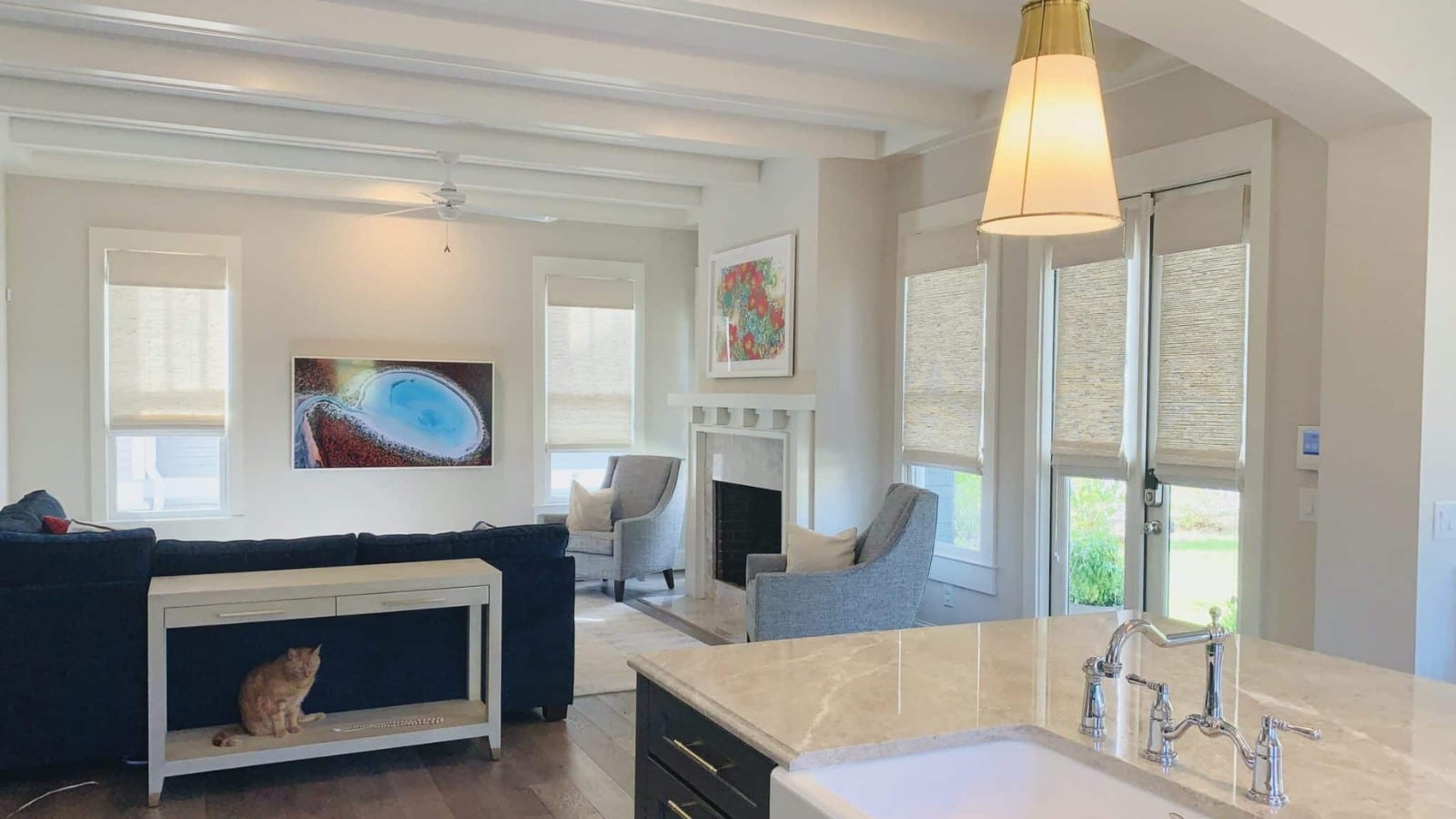 Beautiful, cordless woven shades for this pet-friendly home.
Are woven shades right for me?
Now that you have a better understanding of what woven shades are, let's explore whether they are the right choice for your home:
1. Aesthetic Preferences: If you appreciate a natural, organic look and want to add texture and warmth to your space, woven shades are an excellent fit. They work well with decor that incorporates texture and adds an inviting element to any room. Woven shades offer a variety of color options, with the widest range in earthy tones and neutral colors.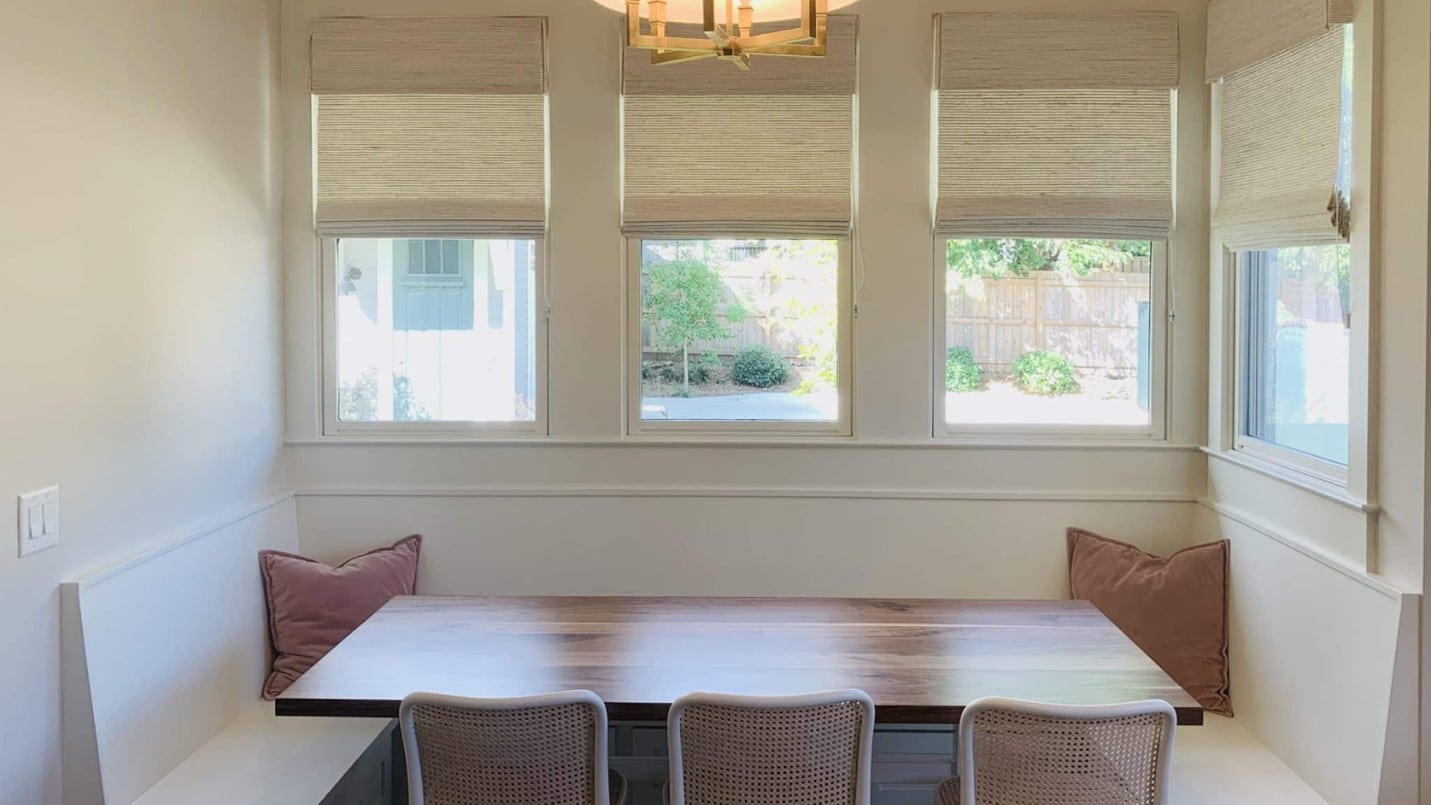 Eclectic aesthetic elevated by woven window shades.
2. Light Control: Consider your desired level of light control when choosing your shade. Woven shades provide varying degrees of light filtration with options that can accommodate most tastes.
Blackout: An opaque fabric is attached to the backside of the shade that prevents light from shining through.
Privacy Lined: A woven shade with fabric that adheres to the back of the shade providing greater privacy and light filtering than unlined shades. Unlike blackout lining, privacy lining allows some light to filter through.
Unlined: Woven shades that are unlined do not have additional fabric placed on the backside and instead a single layer of the shade material provides some privacy and light control. This is the most economical option.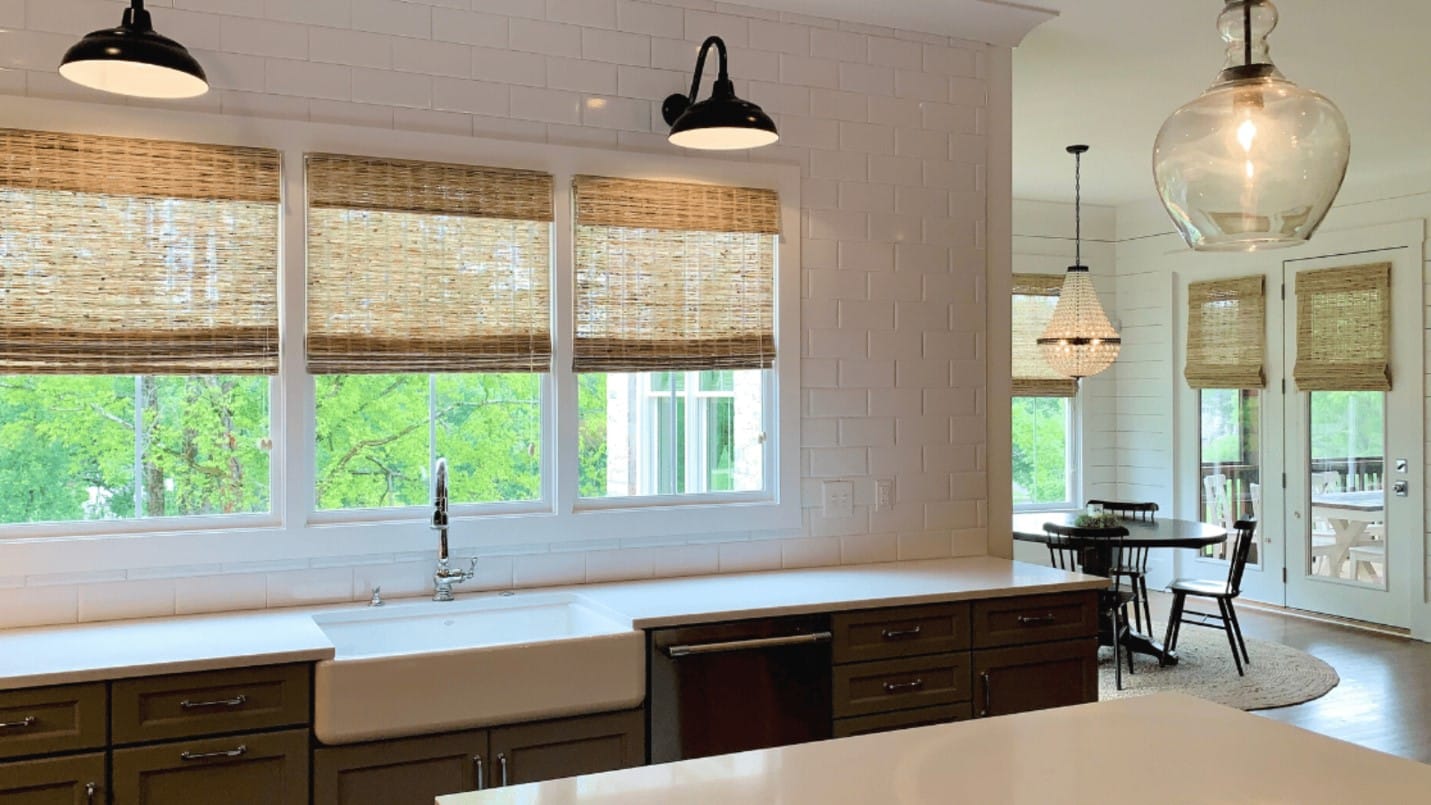 Unlined woven shades that accentuate the rustic interior design of this home with soft, warm light filtering through the weave.
3. Eco-Consciousness: If you prioritize eco-friendly home decor choices, woven shades are for you. They are generally made of renewable materials like bamboo or jute.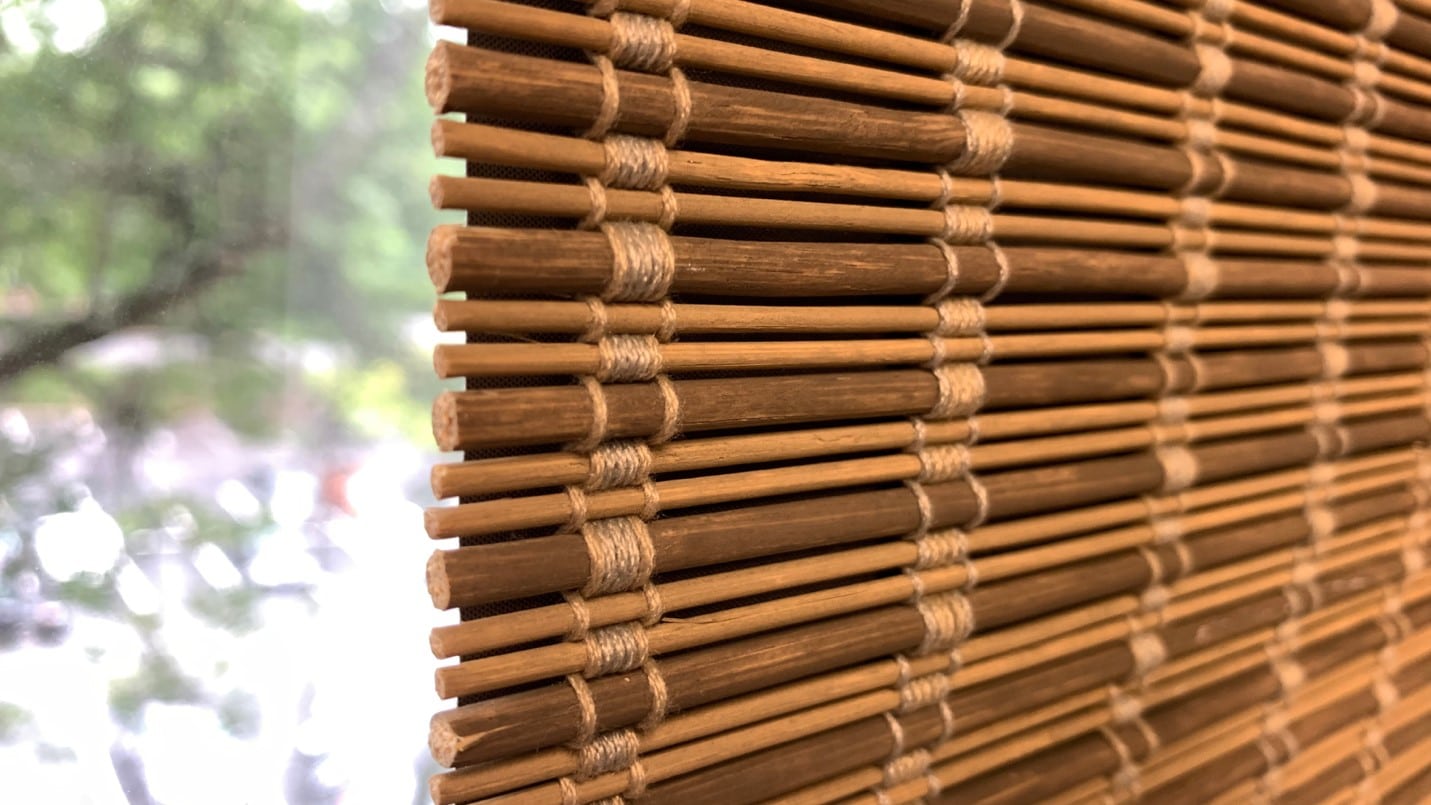 Natural woven wood without edge banding and with a blackout liner.
4. Maintenance: Woven shades are relatively low-maintenance, but it's essential to be aware that dust can accumulate in the textured weave. Regular cleaning with a brush attachment or light vacuuming can help keep them looking their best.
5. Suitability: Woven shades can be placed on windows and doors. Should you need a treatment that can keep up with high traffic use, or just occasional use, woven window shades are a great choice.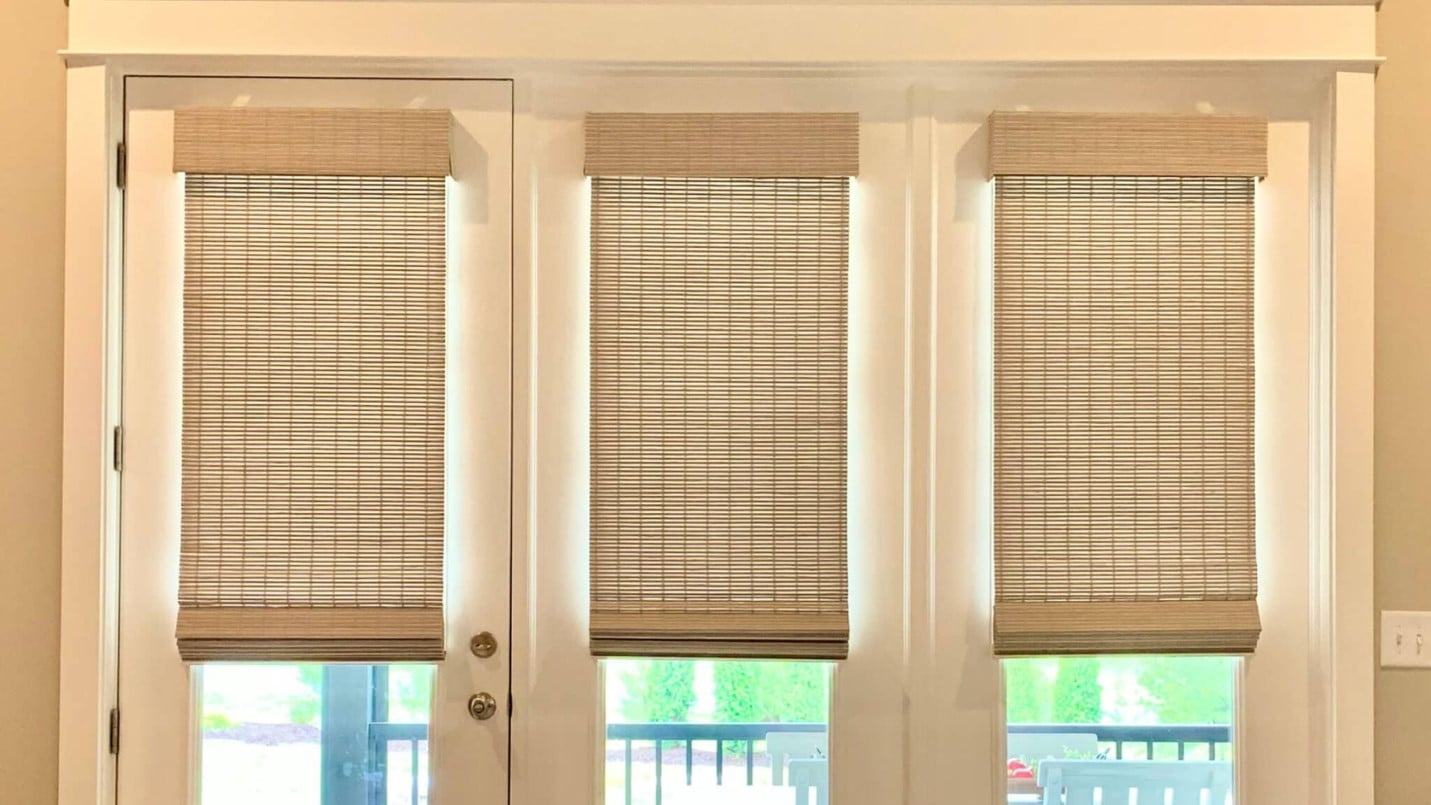 French doors with woven shades work in a high traffic area.
In conclusion, woven shades offer a unique blend of natural aesthetics, eco-friendliness, and versatility. To determine if they are the right choice for you, consider your style preferences, lighting needs, and each room in your home. With their timeless appeal and environmentally conscious design, woven shades can be an excellent window treatment option, bringing a touch of nature and elegance to your living spaces.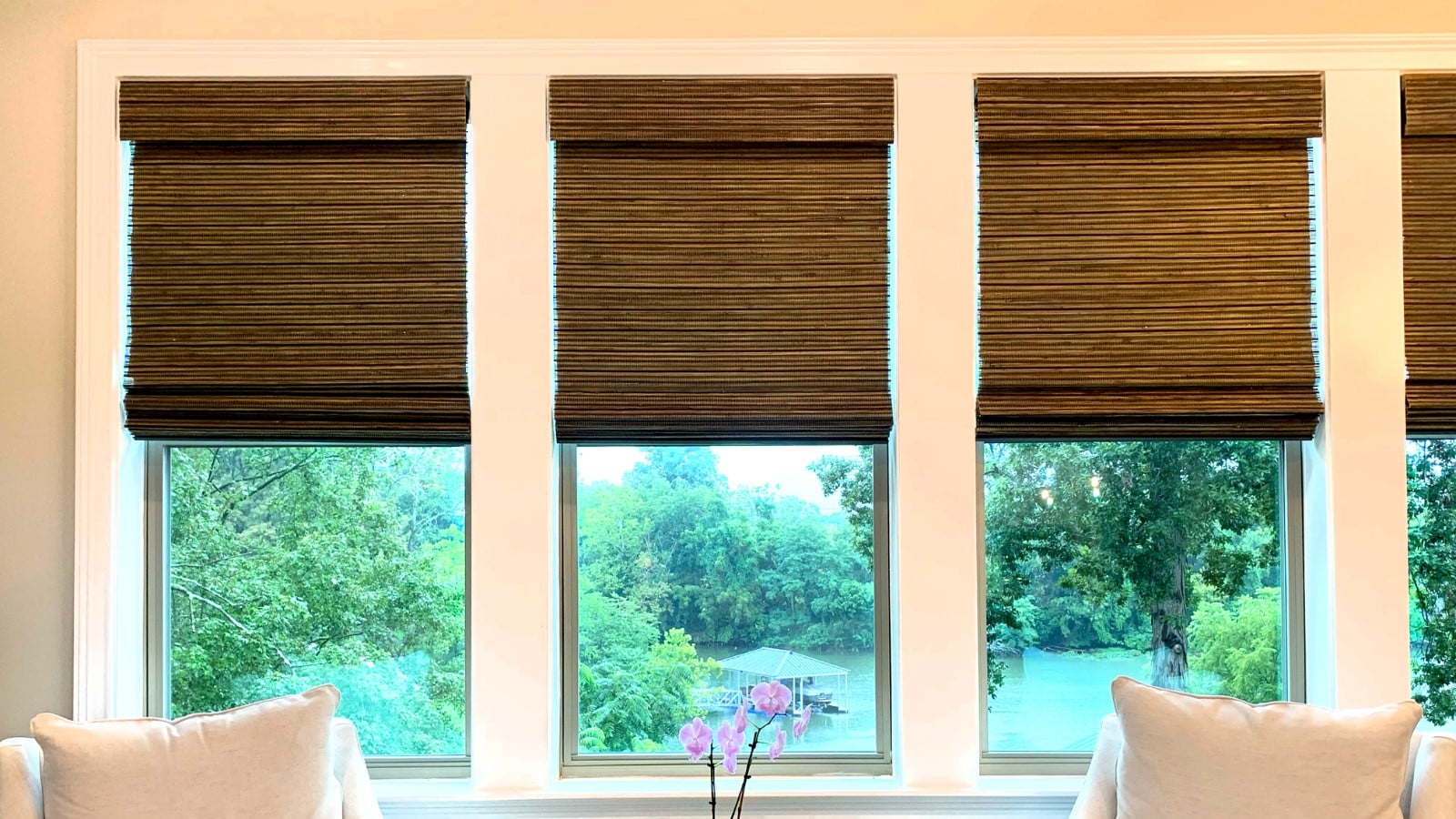 Beautiful woven shades accentuate the gorgeous scenery.
Give Acadia Shutters a call to schedule your free in-home consultation to help you identify the woven shade best suited for you and your home.