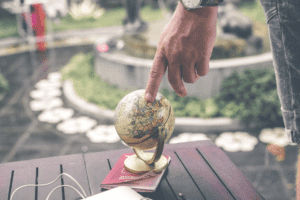 Every year, over 200 million people in more than 190 countries celebrate Earth Day. It's on this day that Acadia Shutters reflects on ways in which we as a company can continue to minimize our environmental footprint…
Hybrid Company Cars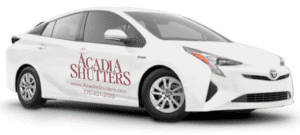 Because our sales consultants meet clients at their homes for a complimentary consultation, we recognize that our biggest opportunity for environmental change is in the cars driven by our sales team. Thus, we have committed to purchasing hybrid cars for use by all Acadia Shutters sales consultants. We've taken this initiative even further allowing our consultants to park the vehicles at their home and scheduling them with clients nearby to minimize gas consumption. We've also outfitted our installation team with a fleet of high-capacity, Best-in-Class Ford Transit 150's. With extended height cargo space, our installers are able to safely and efficiently transport a days worth of product, ultimately minimizing gas usage while also helping to increase installation capacity for our clients.
With 12 Toyota Prius's and 9 Ford Transits currently in our fleet, we take pride in knowing that our green initiative makes a positive impact with every consultation and installation.
Proactively Paperless
We have spent years investing in the development of proprietary software that allows our team to provide our clients with an immediate quote, not an estimate, during their in-home design consultation. Once window measurements are taken and treatment samples reviewed, our clients have the opportunity to discuss their quote onsite with their dedicated consultant so that any questions can be answered. The quote is then emailed to our client, and authorizing production of the order is as easy as sending an email. No wasted paper and no wasted time means your custom plantation shutters, shades, and blinds enter production quickly.
Eco-friendly Window Treatments
It's not just our business practices that are green. Acadia's custom window treatments are also having a positive impact on the environment. Our Solar Shades and LightWeaves® Roller Shades by Graber use GREENGUARD Indoor Air Quality Certified materials which produce lower than average chemical emissions, in turn preserving the air quality in your home. Acadia's hardwood plantation shutters meet the Green Seal standards using low VOC (Volatile Organic Compound) paint. Their construction of poplar wood also shields against the sun's rays, ultimately reducing energy use & energy costs in your home. Further to this, the honeycomb design of our cellular shades creates an insulated barrier against the outside elements, making these shades one of the most energy-efficient window treatment options on the market. Acadia Shutters also partners with Graber, which means that all metals, plastics, fabrics, paper, and waste wood are recycled, minimizing landfill waste.
At Acadia Shutters, we believe it is our responsibility to make environmentally conscious decisions in our business practices and in the products we sell. In doing so, we are dedicated not only to our current clients, but those of generations to come.
Keep up-to-date on Acadia news and special offers! Follow us today!