Window Treatments Health & Homeowner Comfort
Recent research suggests that exposure to natural light indoors can improve mental and emotional well-being. Several recent studies suggest what anyone who has spent much time far from windows in poorly lit interior spaces like cubicles, meeting rooms, libraries or classrooms already understands: natural light improves physical and emotional well-being. Homeowners, builders and architects should design and furnish homes to exploit the benefits of natural light. However, when the sunlight indoors also comes with some downsides. When the sun shines directly into a room, it can cause glare, discomfort and distraction. Fortunately, window treatments offer a range of options for regulating and diffusing natural light so that you can take advantage of the benefits while minimizing the downsides.
A 2021 study published by researchers at the Icahn School of Medicine at Mount Sinai investigated the link between indoor natural light and well-being. The study determined that designing buildings for daylight exposure "imparts substantial health benefits for the general population." It found that indoor natural light benefits physiological and behavioral health. It also found that natural light improved subjective measures of circadian health. The circadian rhythm is the internal clock people have that regulates our sleep and wake cycles. Exposure to natural light during the day can help keep the circadian rhythm in sync, leading to better sleep quality and more restful nights.
A 2022 study by researchers at the University of Chile and University of Sheffield determined that maintaining natural light levels in housing should be an essential consideration in building planning, "to enhance people's subjective sense of well-being." It concluded that "the natural lighting conditions of housing significantly impact people's perceptions of happiness and sadness […]"
Designing for Health Benefits
Architects and home builders should take note of this research and how it applies to designing and building houses to maximize the benefits of natural light. Windows may add expense and complexity to residences but they also add comfort and appeal. Architects and builders should attempt to ensure that most of the commonly used space in homes expose homeowners to natural light by including a generous number of windows. Owners of already built homes can take advantage of the research implications as well. Homeowners can keep windows clean and unobstructed by furniture or by other personal items to ensure that the windows allow in as much natural light as possible.
Allowing natural light to stream into homes through windows can cause many practical issues though. Glare can be a major issue. According to Sally Augustin, an environmental and design psychologist, "glare makes your eyes work harder, and can lead to strain and fatigue." When the sun shines directly into a room, it can cause discomfort, distraction, and even damage to furniture and decor. The intense light can make it difficult to see screens, such as those on televisions or computers, and it can also create hot spots and uneven lighting in the room. Furthermore, prolonged exposure to direct sunlight can lead to fading of fabrics, furniture, artwork, and other items in the room, which can be costly to replace.
Protecting Against Glare
Window treatments offer a solution for reducing glare and the many other downsides that accompany natural light in homes. With customizable features like lift control options, fabric opacities, and louver controls, our shades and plantation shutters permit healthy natural light into your home in a practical and controlled manner.
Many types of shades also come in a variety of opacities to protect from glare. Roller shades and cellular shades can also be ordered in sheer, room darkening, and blackout fabrics. Light-filtering shades cut the glare of direct sunlight while permitting natural light into your home when lowered.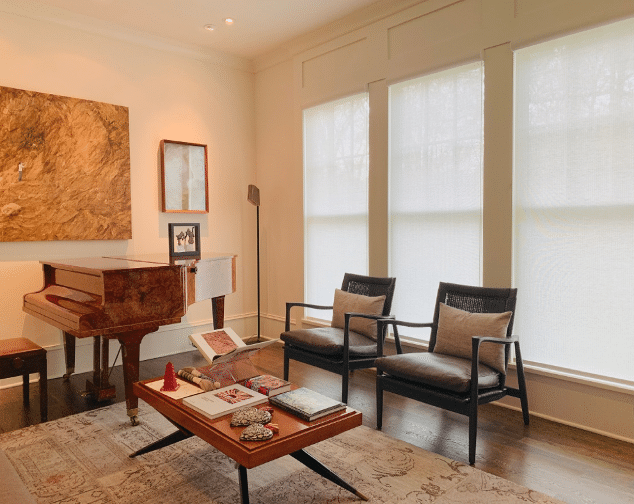 Light filtering shades allow natural light into your home while protecting from glare
Balancing Natural Light and Privacy
All window treatments provide privacy and light control, but some allow you to have more than others. Different opacity options on roller and cellular shades also offer different levels of privacy. For example, sheer shades afford less privacy while blackout shades make your windows completely opaque.
Plantation shutters are also a great option for maintaining privacy. You can easily adjust each shutter's louvers by angling them up or down to hide your home's interior from potential onlookers while letting in the most natural sunlight during the day.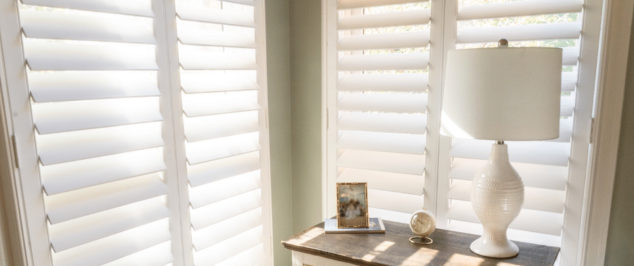 Louvers on plantation shutters can be adjusted to permit natural light and maintain privacy
Keeping Your View & Maintaining Privacy
Blinds and shades can be raised to expose the view through your windows. However, you'll lose privacy, especially at night. If you want both view and privacy, there are really only a few choices: plantation shutters and top down bottom up shades. Top down bottom up shade allows you to cover your lower window for privacy while keeping your upper window open to surrounding natural beauty.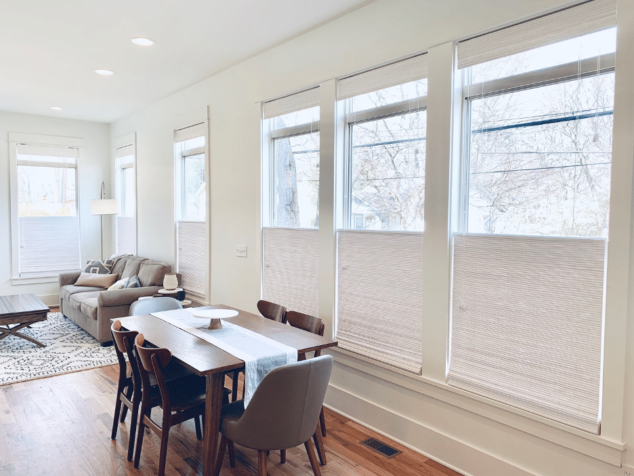 Maintain view and privacy with top down bottom up shades
Plantation Shutters can also offer a view without sacrificing privacy. With either a split tilt rod or divider rails, shutters have a top section of louvers and a bottom section of louvers. Homeowners can leave the top louvers open for view and bottom section of louvers at an angle to maintain some privacy.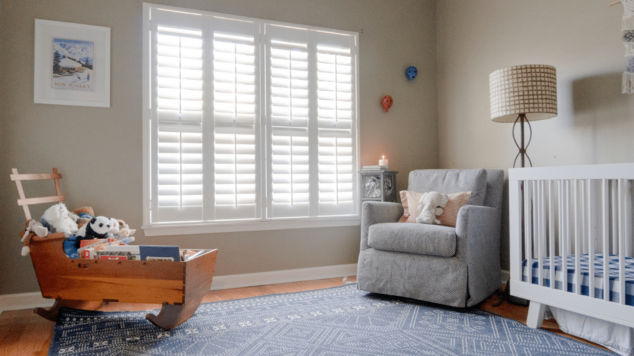 Plantation shutters with split tilt rods (pictured) or divider rails allow the homeowners to open the top louvers while keeping the bottom closed, permitting an outside view while maintaining privacy
The research is clear—exposure to natural light during the day is healthy. However, homeowners have practical concerns regarding glare protection, privacy, and maintaining an exterior view. With lift control options, materials of different opacity, and shutter build options, our products give homeowners the power to balance natural light exposure with being comfortable in their homes.
For more information about how to take advantage of natural light in your home, get in touch with our team today to schedule your free in-home design consultation and instant onsite quote.
Referenced Content:
[1] Nagare R, Woo M, MacNaughton P, Plitnick B, Tinianov B, Figueiro M. Access to Daylight at Home Improves Circadian Alignment, Sleep, and Mental Health in Healthy Adults: A Crossover Study. Int J Environ Res Public Health. 2021 Sep 23;18(19):9980. doi: 10.3390/ijerph18199980. PMID: 34639284; PMCID: PMC8507741.
[2] Nagare R, Woo M, MacNaughton P, Plitnick B, Tinianov B, Figueiro M. Access to Daylight at Home Improves Circadian Alignment, Sleep, and Mental Health in Healthy Adults: A Crossover Study. Int J Environ Res Public Health. 2021 Sep 23;18(19):9980. doi: 10.3390/ijerph18199980. PMID: 34639284; PMCID: PMC8507741.
[3] Javiera Morales-Bravo, Pablo Navarrete-Hernandez, Enlightening wellbeing in the home: The impact of natural light design on perceived happiness and sadness in residential spaces, Building and Environment, Volume 223, 2022
[4] Javiera Morales-Bravo, Pablo Navarrete-Hernandez, Enlightening wellbeing in the home: The impact of natural light design on perceived happiness and sadness in residential spaces, Building and Environment, Volume 223, 2022
[5] Colino, Stacy. "The lighting in your home could be affecting your mood." The Washington Post, 11 April 2023, https://www.washingtonpost.com/home/2023/04/11/lighting-mental-health-well-being/. Accessed 26 April 2023